Kaleidoscope Is Not Everything It Could Be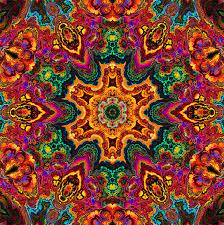 Everybody loves a good heist. There's something cavalier about small-time crooks getting the "big score" from the rich guys. That's the premise of Kaleidoscope.
However, this show is more than just a crime story. Kaleidoscope is an experiment. It is Netflix's first attempt at nonlinear story-telling where the order you watch it in is completely random except for the finale; the night of the big heist. Kaleidoscope's randomness is interesting.
But it does not really work.
Some people might really enjoy the novelty jumping around a timeline, but I would finish an episode and want to know what happens next. I found it much more enjoyable if I watched it in chronological order instead of how Netflix presented it. Some people might enjoy nonchronological storytelling and even enjoy it.
Plot-wise Kaleidoscope is building off an old classic. This heist show generally follows the rule of thumb that if they describe the plan it goes wrong and if they don't describe it the plan will go right. This is because if they laid out a plan and it all went correctly it would be boring, we already knew what would happen. They don't often describe the plan, which I like. The show is comfortable showing us how competent these characters are through the success and uniqueness of their schemes. It also keeps things moving along. There are no 10-minute segments where they lay out everyone's job.
There were some plot twists I was not expecting in the first episode but after that nothing really surprised me it's pretty linear from there if you watch them in order. There were no time skips where I was left confused and wondering "well what happened?"
The acting in Kaleidoscope is ok. This is a bit unfair to hold child actors to the same standards as adult actors but I do. The actor that plays Joe's kid was not very good and a lot of the dialogue felt cheesy.
The cast they have for this show is crazy good. They got the legendary Giancarlo Esposito as Leo, our main protagonist, and he is usually able to nail it. His supporting characters are usually great. The Australian is a little obnoxious but that is by design.
Overall Kaleidoscope is an interesting adventure into nonlinear storytelling. Whether it worked or not is up to the viewer. I personally do not think it worked as I wanted to know what happened next not what will happen a while from now. The jumpy nature of the series was confusing but I can definitely see someone enjoying it. If the acting and dialogue were a bit better I would give this show a higher rating but for now, I give it a 7/10 for an interesting plot and a number of good characters.
Leave a Comment