Sandman Review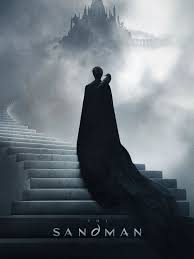 So, let's say you kidnap one of the strongest beings in the universe and steal all his stuff. What is going to come of that? Nothing good. Someone should've told Roderick Bourgees before he stuffed The King of Dreams in a hamster ball! In the netflix series, The Sandman, the highly unlikely and somewhat hysterical scenario I just described happens! After the death of his son, Roderick Bourgess has the great idea to capture death. Promising to resurrect his own son and the son of a rich collector he manages to convince him to give him a magical grimoire. On the other side of world, Dream, The King of Dreams, is banishing a nightmare named Corinthian from the real world. As he is in the middle of it, Roderick starts his ritual and accidentally kidnaps Dream instead of death. The Corinthian travels out to help him contain Dream.
After Roderick's wife becomes pregnant and when Roderick demands she have an abortion she runs off with Dream's items. After Roderick dies his son, Alex, takes up the mantle of watching Dream. Dream is stck there for a century as Alex is now in a wheelchair. After his last visit with dream, his wheelchair breaks the salt circle around him and frees him. After sticking Alex in a permanent 100 year nightmare he leaves to go retrieve his items. The series is about Dream repairing the damage done to his realm while he was away and his trials and tribulations to retrieve his items. An interesting concept, to say the least.
The actors of this show are really good, but they're playing characters that aren't super likeable. Dream's character is what I would call a wet blanket. He's really emo. Tom Sturridge does an amazing job at playing an emo. He accurately portrays Dream's hate and anguish at being captured and the confidence he holds. I don't know how he did it but he did an almost perfect job recreating the Fallen Angel painting of Lucifer during the renaissance. My favorite character has to be Matthew the crow voiced by Patton Oswalt. There are other actors who fit their roll perfectly such as Boyd Holbrook as The Corinthian, and Vivienne Acheampog as Lucienne. The series has yet to show any really intense emotions and feelings. Sure, Dream has been really angry but it was more like cold stares.
Overall, I give the Sandman an 7.5/10. It was an interesting watch but I did not really enjoy it in the beginning and I only really started to enjoy it after the 4th episode.
View Comments (1)