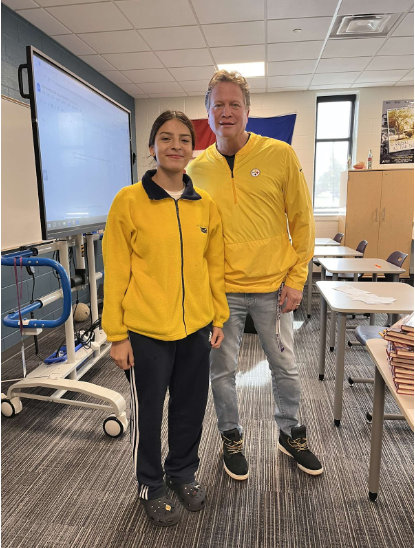 Wyoming High School is filled with many amazing teachers that care about their students well being and education. One teacher stuck out to me, he is always engaged with his students, he works hard to keep grades in order and he understands things going on at home for his students. Mr VanGorp is an English teacher here at WHS, he is an amazing teacher that cares about his students and about our school as a whole. He's a big wolf pride type of guy and I think it's amazing. He's an overall great asset to WHS.
VanGorp has wanted to be a teacher since college due to his professors. He had some great professors at Grand Valley University, He was able to be himself and he could talk and they would listen. He felt appreciated. "They were engaging," Vangorp said. "Yhey were dynamic and they were really down to earth." Thanks to them, we were able to learn from a well qualified teacher. After finishing college, Mr VanGorp started teaching college classes at Grand Rapids Community College first in 2001. Then a year later he started teaching at WHS, he's been teaching for over 20 years.
Vangorp is a caring teacher that understands different kinds of circumstances. He always works hard to keep the class incorporated and engaged during class. I think a lot of students take his kind of teaching for granted. Not many teachers care as much about what you're doing after school or how your day is going or just give a simple smile. He will keep trying to help you until you get it.
Vangorp talked about how exactly some of his students impacted him. He said having a conversation with them and finding out their truth or their reality is what really impacts him. He likes being the one talked to about his students' situations outside of school because it opens his eyes to other realities and that's what really impacts him. It could be one on one or it could be in a whole class setting. He said building bonds is different. As a teacher you impact the kids but the kids could also impact you.
We all have goals for this year. But the goal this year for VanGorp is to become closer to his students because of the lack of connection due to having a student teacher last year. He said he learned a lot from having one but probably won't do it again because he doesn't know what to do with himself. Due to lack of connection last year this year sometimes seems a little more challenging.
Vangorp said most days he leaves from school he always thinks he did his very best to teach us. But there are some hard days still, he said teaching comes with many challenges. There are two main reasons why VanGorp thinks teaching is challenging sometimes. He said it's hard to keep students focused or locked in on the work he has to give out. Cell phones and technology don't make it any easier for teachers to keep students' attention. "Teenagers don't necessarily know it but phones can be a deterrent when it comes to learning: he said. Phones can take away from your learning if you let it and many kids do.
On the other hand there are a few reasons why he loves his job. He loves to see improvement in a student's work, he loves to see them finally get what they've been working on " I'd say those aha moments where somebody like a student catches on to something we're talking about in class or you know, they come up with an original thought that really sparks their way of thinking are the things I really love about teaching." he said.