Retro Goal: A Mobile Game Review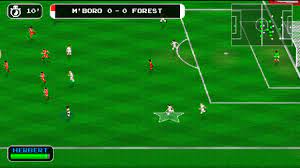 When Retro Goal was released on June 23, 2021, it impacted a lot of people in the soccer world and created a simple game for many people to play. It provides an action-packed game that uses simple mechanics to create a retro soccer game that excites many with its accessible features. You may only be able to play against AI, but it's a game that you can pick up and play whenever you want to.
The controls and basics of the game are simple. You use a dragging mechanism to shoot, pass, and dribble the ball. Your star players upgrade over time and have a maximum potential to reach where they can become faster, better at dribbling, have quicker reflexes, and improved agility. This helps people to continue playing the game and want to continue forward with their progress in the season.
The game begins with a start-up menu that asks you what name you want to be called as a coach. Obviously, I'm a civilized human being so I used my own name, but others have named themselves things like bananasplit1978. This name will be your name as a coach of a soccer team for that seasonal save. Then it brings you to a tab of all of the teams and it shows them all as being available coaching jobs to start, and then it allows you to choose your favorite coaching job and continue. After it does that you move on to the office screen selecting who is going to be your secondary coach on the team. These secondary coaches have a certain amount of potential and can only reach their max potential. This is comparable to how your team's players have a max potential they can reach as well.
After the creation of your team is completed the game will generate a basic group of star players. These star players that you begin with have a weak max potential usually and you have to find better players on the transfer list. These players can be acquired over time as you go through the season and you can upgrade them while using them in soccer games. Sometimes these players don't show interest in your team because certain parts of your training facilities aren't upgraded or your coach isn't at a high enough level to acquire these players. This can make it complicated for you to get better in your first season, but eventually, I was able to acquire players with good max potential and was able to re-tool my roster to reach the championship.
Overall, If I had to give this game a rating I would give it a solid 8 out of 10. I feel this game deserves this rating because it's not perfect, but it's still a really enjoyable game you can pick up and play whenever you have time. It's nothing too special with the dragging mechanics, but I feel like the simplicity and retro design make it feel like a classic game that has been enjoyed for a long time.
Leave a Comment