Wyo Student Gets Part at Civic Theater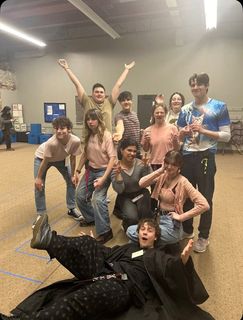 Grand Rapids Civic Theater. Doesn't that sound enticing? The Civic Theater was created in the roaring twenties and its mission has always been to entertain and educate everyone with the art of theater. What's the point of my writing this article? We have a student who ended up becoming one of the main characters there!
Renee LaFleur, an amazing person, has made it! She is one of the 3 main characters in the play, Puff. But, what is this play all about? Renee put it in short and simple words, 'the play is based on Hufflepuffs from the Harry Potter series.' How long has Renee been wanting to act?
"Ever since I was a little girl, I've always loved theater. When I was younger, I did many classes at the Civic Theatre and then moved to do theater here, at Wyoming High School. This is one of the first productions I've been in outside of theater here at school!" Renee's amazing acting skills are just incredible and the auditions must have gone great if she was one of the main actors!
"Auditions were so much fun! There is always so much talent when it comes to auditions, so much so it's hard to know where to even put yourself. There were two rounds of auditions, the second round had a much smaller number of people," explains Renee. She, herself, is full of many wonderful talents, but what goes on during an audition?
"We were given a script and scenes from the play and a character, and were told to act them out! I played many different characters during auditions – everybody did," mentions Renee. I'm glad she did amazing as one of the main characters and got the role! How did she feel when she got one of the lead roles?
"I was so excited! I had auditioned for several shows in the past and was trying to keep my hopes down so I wouldn't be too disappointed if I didn't get in, but I did! I was so thankful and excited, "ecstatically says Renee.
I'm incredibly proud of Renee. She deserves to have this role and many more. I've never been happier for her, I know she'll do great and blow the crowd away! Maybe even land herself a role on Broadway. If you're reading this Renee, I love you and I'm super excited to see where this leads you in the future.
Leave a Comment