Students React to Damar Hamlin Tragedy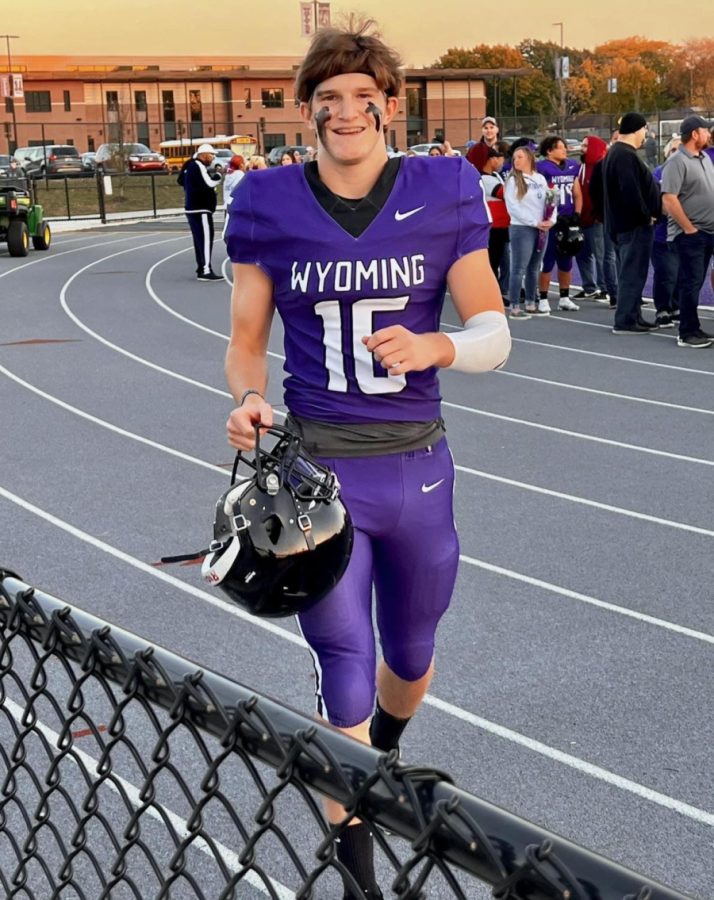 When many people think of football, they think about an action-packed and entertaining game, but what they don't expect to see is death.
Sadly, this is exactly what everyone watching the Detroit Lions game on October 24, 1971 witnessed when Chuck Hughes made his first catch of the year, before falling face down on the grass while clutching his chest. Hughes had suffered a heart attack, and was unable to be resuscitated.
Damar Hamlin is a 24 year old who plays safety for the Buffalo Bills. On January 2 in a Monday night showdown with the Bengals, Damar made a tackle on Bengals receiver Tee Higgins. Damar was able to stand up and take a step, only to collapse suddenly on the field. He had suffered cardiac arrest.
For student – athletes like Wyoming quarterback Jaden Lafleur, the scene hit home.
" It was scary to watch," Lafleur said. "It looked like a routine tackle and he looked normal when he stood up, but the way he just fell with no control flat on his back you could tell it was a serious injury.
We've seen people in the NFL who had gotten severe concussions stand up and wobble around when they try to walk, but as Jaden said, because of the way Damar had fallen lifelessly to the turf was just different. Jaden also offered his insights on the injuries he's endured throughout his high school football years.
" Luckily, I've never had an injury to the degree of Damar's," Lafleur said. "I don't even think I've broken a bone or anything like that."
At 1:48 AM on Tuesday, an official statement on the situation was released: "Hamlin received immediate medical attention on the field. He was then transported to a local hospital where he is in critical condition," the spokesperson from the NFL said.
Later Tuesday evening, reporters heard from Damar's uncle Dorian Glenn, who informed them that Damar remained sedated in the ICU and was on a ventilator that was reduced throughout the day from 100% to 50%.
" They're trying to get him to breathe on his own," Glenn said.
Glenn also revealed that Damar had to be resuscitated twice, once on the field and once in the hospital.
In the coming days, the Buffalo Bills organization continued to release statements and updates on the state of Damar and his health.
" Damar remains in the ICU in critical condition with signs of improvement noted yesterday and overnight," the Bills released on Wednesday the 4th.
The following day, the Bills released yet another statement, with the news getting better and better.
"Damar has shown remarkable improvement over the past 24 hours. While still critically ill, he has demonstrated that he appears to be neurologically intact," said the physicians at UCMC. (University of Cincinnati Medical Center)
Then, there was a special moment in the Bills next game against the New England Patriots. On the opening kickoff of the game, Buffalo return man Nyheim Hines returned the kick down the Bills sideline for a touchdown. The special part being that was the first kick return touchdown for the Bills in 3 years and 3 months, and there is no coincidence that Damar Hamlin wears number 3.
"I was going around, I was going around to my teammates saying 'Gods real'. You can't draw that one up any better," said Bills quarterback Josh Allen.
Damar himself took to Twitter to express his support and excitement for his team and the game.
"FREE HINES," said Damar.
The good did not stop there, but the great news continued as just a week after suffering a cardiac arrest on the football field, Damar was released to leave the hospital in Cincinnati, and go home to Buffalo. However, Hamlin would remain hospitalized in Buffalo as a precaution.
" Damar Hamlin remains hospitalized but is in good spirits at Buffalo General Medical Center. Hamlin is going through a series of testing and evaluation today," the Bills released on Wednesday.
The greatest news of all came on Thursday when the Bills released what we all hope to be their final statement on this matter.
"Damar Hamlin has been discharged from Buffalo General Medical Center."
Leave a Comment