Insight on the iPhone 14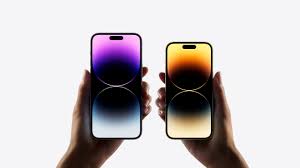 Over the years every time, a new iPhone drops, customers and critics would always complain about how it's basically the same phone just a different camera. This year Apple switched up what's in store for customers and critics. The new iPhone 14 sure is exciting with a lot of never seen features. They also changed the whole front screen design which makes it easy to tell apart an iPhone 14 from its other models. Instead of researching and copying other articles from critics, I decided to dive in a bit deeper and go interview people with the new iPhone 14 myself so that's exactly what I did! Starting off with one person I knew who has the new phone, Johnathan Lopez. Comparing it off the rip to the iPhone 13 right away you notice that it looks very similar besides the front screen but with the actual features of the phone, that all changes. Starting off, Johnthan Lopez shows me the new camera and all the new options. One of the new options is Action mode. Action mode is a brand new feature, you can enable video mode to supercharge stabilization for very intense motion, like running behind someone and recording their workout or chasing your kid around a playground, which is its own kind of workout.
Being a curious customer myself after hearing from Johnathan and decided to do my own research and found the new iPhone 14 has the fastest internal chips yet! "The iPhone 14 and iPhone 14 Plus have an A15 Bionic chip, like the iPhone 13 before them. But the chip's gotten some updates — Apple claims that the graphics portion (the GPU) is 18% more powerful, and the CPU and neural processors are better too". Digging deeper I found that the infamous iPhone notch is gone, well not completely because the iPhone 14 and 14 plus still have the notch but not the iPhone 14 Pro or iPhone 14 Max, they have a pill-shaped cut-out called the dynamic island. "The Dynamic Island is a standalone cutout that's surrounded by working pixels and houses the selfie camera and Face ID sensor. It's also responsive, growing, and shrinking based on what app you're using. Some apps, like Lyft and Apple Music, can display information inside Dynamic Island even while you're using other apps. Others can use the Dynamic Island to send smaller and less obtrusive notifications." As you can see now, the new iPhone 14 comes with many different brand-new features and isn't just a copy of the last iPhone like critics and customers say. As a personal lover of Apple myself, I am sure excited to try this brand new iPhone myself!
Iphone 14 Pro and Iphone 14 Max
Leave a Comment