What's going on with the Detroit Lions?
The Detroit Lions are currently the best and worst team in the NFL.
Yes, you read that right. The Lions have the best offense in the league, with Jared Goff and Jamaal Williams leading the way with 17 combined touchdowns in 4 games. This makes the Lions the 6th in the Super Bowl Era (1970-) to have the leading Pass TD and Rush TD in the first 4 games. It's an impressive stat to say the least. In my opinion, if Goff keeps this performance up, he could make a run for MVP. You heard it from me first.
Watching the Lions game against the Seattle Seahawks was brutal. Our offense was great, you just knew that there was impending doom when Seattle had the ball. Knowing our defense couldn't make plays, we would've had better odds just going for onside kicks and hoping we recover the ball.
I honestly thought that this year would be different. We have one side of the ball covered. The media hyped us up so much, believing our defense would be stellar. But after our stint in Hard Knocks, our defense fell back to earth, being the same old Detroit Lions. In Detroit, you just can't have it.
The Lions could be 4-0 right now, but our defense changed that. I though cornerback Amani Oruwariye would be a star this year… boy was I wrong. He had 5 pass interference and illegal contact calls against the MInnesota Vikings in Week 3, and kept getting torched by Seahawks receiver D.K. Metcalf this past week. Aiden Hutchinson and Malcom Rodriguez our the only good things going on our defense. It also wouldn't hurt to have some injured players like Jerry Jacobs and Levi Onwuzurike back.
If our defense could step up, I think we could make the Playoffs easily. The NFC isn't the greatest this year, with most teams sitting at a 2-2 record. So we could definitely make the Wild Card if we start winning.
This coming Sunday (October 9), we travel to Foxbourogh, facing a not so great Patriots team. We can definitely win this game, with Patriots quarterbacks Mac Jones and Brian Hoyer being injured. Although the Patriots played good ball against the Green Bay Packers last week, I think we can come out on top, making Patriots fans regret not paying Tom Brady.
Even if we win the Super Bowl, it'll always be Detroit vs Everybody!
Leave a Comment
About the Contributor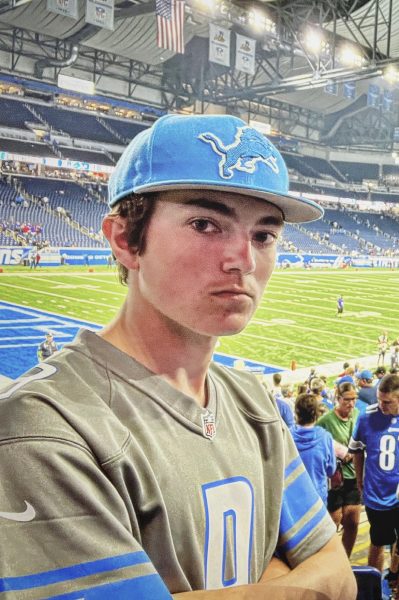 Wyatt Hall, Managing Editor
Hello! My name is Wyatt and I'm a Senior here at Wyoming High School and most of my articles will be found within the sports section of the Wolf Pack...