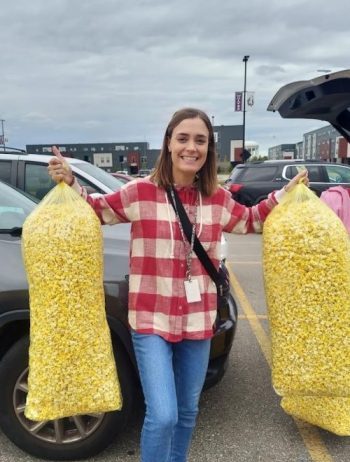 Life is full of obstacles, but it's the way they're handled that makes the biggest difference.
That is how Ms. Schoen, a Geometry teacher and the Sophomore Committee advisor at Wyoming High School, wants her students to approach becoming successful both in life and in the classroom.
"I want to help you guys become successful as students who will become contributing members of society," Ms. Schoen said.
Ms. Schoen began her teaching career at Wyoming High School and had her first day, along with her students in the year 2022. Since then, Ms. Schoen has taught at Wyoming High School for two years and has made such a positive impact on her students.
"I would say in terms of just trying to keep myself motivated for you guys is to just be to my best potential, because if I'm not on my game then you are not going to be," Ms. Schoen said.
As a young girl, Ms. Schoen was able to observe her mother and the way she taught her kindergarten class. She was able to see the impact that she had on her students, later influencing the career path Ms. Schoen chose.
"I think I was like wow, my mom has such a huge impact on students," Ms. Schoen said. "So I was like ,well, I would just love to be that for somebody else."
Ms. Schoen is good at all she does. She is accepting of everyone's ideas and beliefs. Her classroom is a safe space for all students. Ms. Schoen not only teaches her students math, but she enlightens them with lessons about life.
"There are times when we have a hard time believing, but to ask for help and to believe in yourself because only you can do it, no one else can do it for you but yourself," Ms. Schoen said.
Ms. Schoen builds community, she helps build friendships. Ms. Schoen creates a positive environment with healthy factors that make learning a safer place to learn.
Ms. Schoen is an outstanding teacher and an important role model at Wyoming High School.