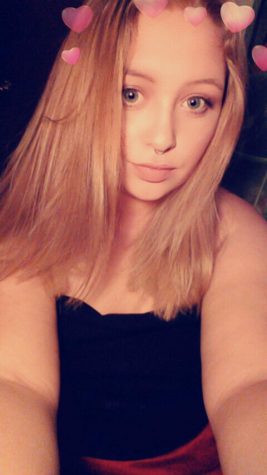 I am invisible.
I'm a 17 year old senior here at this high school. I'm blonde(for now), I am 5'7, and I have green eyes. I am a part of the Honors Choir here.
I attempt to have school spirit. Outside of school I sleep, eat, breathe, drown in homework, ya know the usual. I love music a lot. I also really like cats. Cats are cool my dude. My favorite color is like a deep blood red or purple.
After high school, I want to attend GVSU and study to become a high school English Teacher. If my plan for becoming a teacher fails I want to become a counselor. Some shows I watch are The Flash, Pretty Little Liars, Shameless, The Arrow, Grey's Anatomy, The Vampire Diaries and The Originals.
I honestly have no life. I am a normal, boring teenager, who spends their day just trying to get to the next. Although I am always tired I try to be optimistic and in a good mood. I have five siblings and one niece. I have over 28 cousins and that's only one side of the family. I've been attending Wyoming Public Schools since 5th grade, but at the time it was Jackson Park Intermediate.
I fly under the radar here. I'm not in sports, band, robotics, GSA, key club or anything of that sort. I am overlooked just like the choir. Goodbye, I have to get back to writing now. Stay cool my dudes.
Victoria Smith, Contributing Writer
Nov 03, 2017

Choir is like a family (most of the time)

(Story)

Nov 01, 2017

Senior! Senior! Read all about him!

(Story)

Sep 20, 2017

What choir means to WHS

(Story)