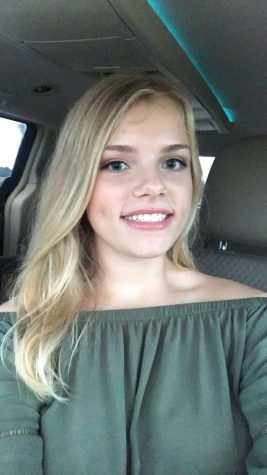 My name is Skylar Gelock and I am supposed to tell you about myself. I don't even know where to begin but I have to do this for a grade so here goes nothing. I am a 17 year old girl whose life is consumed with school and school related activities. I love to cheer and have been on the school cheer team since 7th grade. I have also recently joined the tennis team and I enjoy that as well.
I love spending time with my family as family is everything to me. I would describe myself as an extroverted introvert meaning, that I enjoy going out and hanging with friends but I am also content with chilling at home and sleeping or watching Netflix. Speaking of Netflix, my favorite show on there is The Vampire Diaries. I watched six whole seasons of it in one summer.
Summer is my favorite season mostly because there's no school but also because it's warm and you can do fun activities outdoors. I love to go camping and along with camping I love to go boating. I recently learned how to wakeboard and I frequently do that during the summer as well as tubing. Summer is also a great time for ice cream which, is one of my favorite foods. In fact, I worked at an ice cream shop one summer and it was not a good thing for my health. I took ice cream home almost everyday and snuck pieces of candy whenever I could.
Overall, I'm just a 17 year old girl who lives a life just like any other teen. I go to school everyday, despite how much I don't want to. I play sports, go to sports games, go on social media, and sleep… a lot. Even though it can be difficult at times, I love my life.
Skylar Gelock, Contributing Writer and Editor
Dec 04, 2018

Catching Up With Alpha Wolf Juan-Pablo Marcos

(Story)

Dec 04, 2018

Catching Up With Alpha Wolf Lauren Gonzalez-Diaz

(Story)

Dec 04, 2018

Catching Up With Alpha Wolf Erika Hernandez

(Story)

Dec 04, 2018

Catching Up With Alpha Wolf Avalon Dexter

(Story)

Nov 12, 2018

Students Love the New Math Circle Club

(Story)

Nov 08, 2018

Students Love the New Math Circle Club

(Story)

Nov 08, 2018

NBC's Manifest Takes Off in its Debut Season

(Story)

Oct 16, 2018
Oct 12, 2018

Volunteer Opportunities in Wyoming

(Story)

Oct 03, 2018

Are Kids Getting Worse Today??

(Story)

Sep 19, 2018

Where is your school spirit Wyoming?

(Story)

May 11, 2018

A Glamorous Night Out

(Story)

Apr 19, 2018

Unfinished Business

(Story)

Feb 21, 2018
Jan 24, 2018

Skylar's look back at 2017

(Story)

Jan 17, 2018

Calling All Twitter Lovers!

(Story)

Jan 15, 2018

Album Review: Harry Styles

(Story)

Dec 01, 2017

Star Lab comes to WHS

(Story)

Nov 21, 2017

What the bond means for WHS sports

(Story)

Nov 08, 2017

On this episode of Job Hunters…

(Story)

Nov 06, 2017

Blood Drive sucks the blood out of students on Halloween

(Story)

Nov 03, 2017

This Time On Job Hunters…

(Story)

Oct 20, 2017

Dig Deep, Dig Pink

(Story)

Oct 10, 2017

Homecoming Court announced!

(Story)

Sep 17, 2017

Monthly Horoscopes: September

(Story)