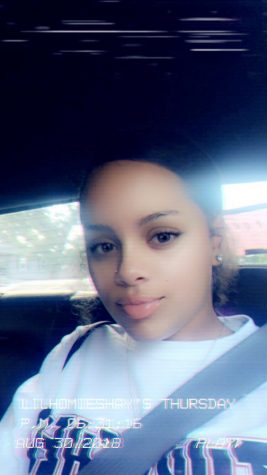 Well, for starters I bet you would like to know my name; my name is Shaylynn Morris. There is so much I could go on and on about myself, but I don't think you want to know everything, so I will make it brief.
I was born in Palm Springs, CA but I moved all over the place, I was never in one state for longer than a year and a half before I moved to Michigan.
As a young girl I was very outgoing and I was the type to never care about what people said to or about me. I would most certainly walk out of the house with sweats and my hair looking like a bird's nest, (yes I do have pictures.)
Growing up around the United States I obviously had a hard time keeping friends but one thing I always was connected with was writing. I love writing. I would write about my problems, make stories and just think with a paper and a pen. I guess that is why I chose journalism as a class this year. Writing is all together something I love to do and something I will always rely on.
Enough about that, let's talk about some of my hobbies and interests. I have always been one to love sports, I love playing basketball, volleyball and running. I also love football and soccer, but I am not too good so I stick to just watching it.
When I get out of high school, I have many plans on how I want to live my life. The top plan is to go to UGA School of Law to become a juvenile justice attorney. I am very interested in become an attorney for minors, helping them with their cases.
My second plan is to go to New York School of Interior Design. If you know me, then you know I love designing things and making buildings and homes beautiful.
My last plan for my future is to go to USC to become a marriage and family therapist. In my personal life we definitely needed some therapy and I never received that, but the thought of helping others that have marriage and family problems is something I would love to do.
There is so much to talk about but those are the highlights. If you think I'm an interesting person continue to keep up on reading my articles because I promise there will be something you will like. Stay tuned.
Shaylynn Morris, Contributing Writer
Dec 07, 2018

Samsing Vs. iPhone

(Story)

Nov 28, 2018

Netflix's Big Mouth Can Be Inappropriate, But Also Funny

(Story)

Nov 13, 2018

Check It: 10 Popular Trends at Wyoming High School

(Story)

Oct 30, 2018

Not Everybody is Social

(Story)

Oct 17, 2018

Sierra Burgess Is a Loser Movie Review

(Story)

Oct 04, 2018

Study Tips for All

(Story)

Sep 28, 2018

What is Joe Up to After High School?

(Story)

Sep 27, 2018

Is Wyoming High School's Dress Code Unfair?

(Story)