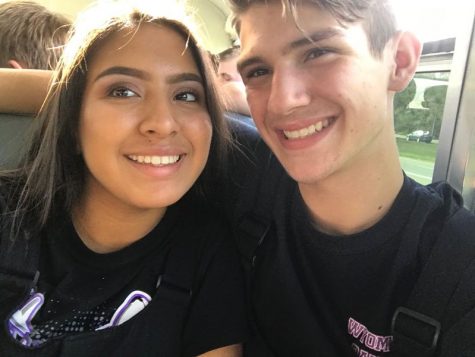 All I need is an inch to accomplish my dream. My name is Seth Martin I'm a junior and I play Tennis. I just dream of being a 6 foot tall man, but for now I'm stuck at 5'11''. I have played tennis since my freshman year and it's a big part of my life. I also played golf one year. I have a girlfriend in my grade, Aliyah Rivera, and you will catch me around her all the time.
I love the color pink. I love to be inside, and can spend millions of years on my butt. I am in band and play trombone, tuba, and baritone. I played just the trombone when I started out but I couldn't handle the looks of the other instruments. I hope to play a woodwind one soon, but it's a lot different than brass, so I'll probably just stick to what I'm good at.
I don't do much on the weekends but play Xbox One and my computer. I love playing Smite, League of Legends, CS GO, and Rainbow Six Siege. My gamer-tag is "Supa Killa 00". I love watching games professionally and hope to one day become an e-sports gamer. My other dream since when I was a child was being a teacher more notably a English teacher. I believe that almost ALL of my English teachers have made an impact on my life in more ways than one. I also believe that you can get away with a lot more as an English teacher, not everything is a rule and solution. There's almost always another way.
Seth Martin, Features Editor
May 04, 2018

Fortnite Season 4 update: Superhero theme

(Story)

Apr 30, 2018

Baseball: #Compete

(Story)

Feb 28, 2018

Helping out the Stoneman Douglas High School

(Story)

Feb 27, 2018

Festival of the Arts!

(Story)

Feb 20, 2018

Wolves clinch conference championship!!

(Story)

Feb 12, 2018

A Heart-Wrenching Defeat

(Story)

Feb 12, 2018

Wolves Basketball Keeps Rolling Through Entertaining Season

(Story)

Feb 07, 2018

Groundhog Day job shadow – KentISD

(Story)

Nov 21, 2017

What the bond means for WHS sports

(Story)

Nov 14, 2017
Oct 26, 2017

Wolves finish season with a victory

(Story/Media)

Oct 17, 2017

Wyoming Wolves Persevere with a Homecoming Victory

(Story)

Oct 13, 2017

Athlete Profile: Tuan Ngo

(Story)

Oct 06, 2017

Girls-only FIRST Robotics event coming to WHS

(Media)

Oct 02, 2017

Football crushes Thornapple-Kellogg

(Story)

Sep 25, 2017

Marching Band takes first place

(Story)

Sep 18, 2017

WHS Welcomes Mrs. Dangerfield

(Story)