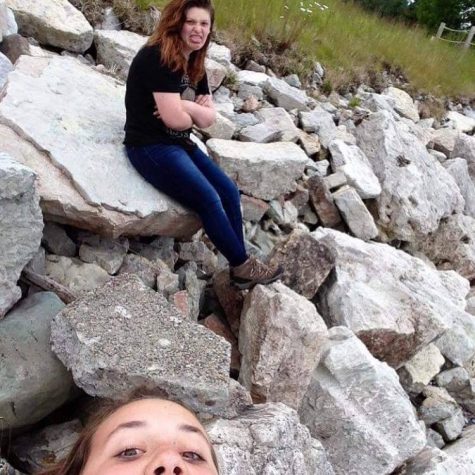 I think this bio is dumb, and I just want to get back to my actual writing, but this is for a grade so here we go.
My name is RaeLynn Watkins, I'm a senior here at Wyoming High School, I am a part of the middle college program and the founder of the GSA. I like writing about people, probably because in a sense I then become apart of their world.
In my free time I'm usually working as an FOH supervisor at Craig's Cruisers, or laying in my bed at home listening to music. I'm the oldest of 6 and have various pets such as a dog named Nala, two geckos named Karma and Kush, as well as a ton of fish.
I'm really bad at math, and really good at singing (So I've been told). I'm also really into the outdoors, mainly hiking, backpacking and being on the water, I even have my own kayaks. I have traveled many places including Tennessee, North Manitou Island, Mackinac Island, Virginia, Ohio, New York, and Indiana.
PS, If I'm being honest with you I don't really know what I should write about, and all of this has been some weird tangent about myself...wait, are people actually going to read this? Anyway, after high school I'll attend GRCC for at least another year to finish up in the middle college program and be on my merry way to a university, hopefully. Wyoming High School's GSA is my pride and joy, and the only bad thing about it is that I didn't start it sooner. The group is filled with many great people I'm glad I get to call my friends. Speaking of friends, I don't have as many as I used to, but in my senior year especially I've made some pretty good ones including the famous Seb (Sebastian Blum, check out my article about him), Jalen Johnson, and this like really really pretty girl named Alexa Abrahamson.
Oh, and of course my boyfriend, Robert. They all bring me a tremendous amount of joy and I can honestly say I'm not myself when I'm not around them. But, I'll be going now, thanks for wasting just a bit of your life to read this.
Raelynn Watkins, Managing Editor
Dec 05, 2017

How to help people with anxiety

(Story)

Dec 05, 2017

On the coldest night My Dearest, as winter just began

(Story)

Dec 01, 2017

Club Profile: Meet the members of the GSA at WHS

(Story)

Nov 14, 2017

GSA needs your support

(Story)

Oct 17, 2017

What the bond vote means for WHS

(Story)

Sep 20, 2017

Who is Mr. Nykamp?

(Story)

Sep 10, 2017

Sebastian Blum: 23 Hours and Three Airplanes, 48 Hours Later

(Story)