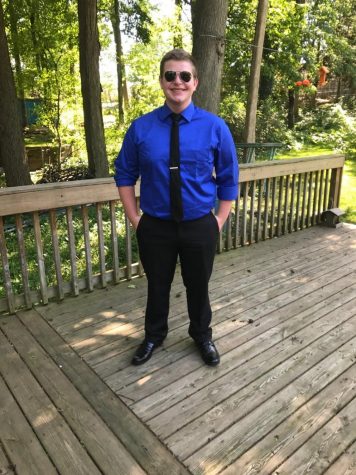 Hey everyone, I'm Nolan! Many of you may know me as Nolander, Ranger Nolan, Weatherby, or a plethora of other nicknames given to me by the students and teachers of the school. But, if you're new around here, I'll give you the inside scoop on what you're getting yourself into by asking "Who is Nolan Weatherby?"
Sports are always something that brings people together, so I'll start there. I'm mostly into the fall and winter sports, specifically football and hockey. You'll usually see me wearing U of M gear until hockey starts. That's when I pull out my beloved Red Wings merchandise and route for the boys of Detroit. But, for when the weather warms up, I start to watch tennis, a sport that has grown on me since I started playing last year. It's a more intense sport than you might think, just play a highlights video and you'll hear how hard those professional players hit that little ball.
My hobbies are kind of neverending, but I can slim those down to my few favorites. I really enjoy the outdoors, I spend most of my time outside year round. This includes fishing, swimming, hammocking, camping, and grilling. I also enjoy hanging out with my friends. We go on trips with each other, do secret santa every year, and try to do something every weekend to just have fun. Finally, I enjoy to cook. It's a fun pastime, and I love to eat so it works out for me.
That's all for now, folks! Hit me up if you have any stories that you want me to write about for the newspaper. Peace.
Nolan Weatherby, Sports Editor
May 07, 2019

Asian Fusion and a Thing For Trains: Railtown Brewing Company

(Story)

Apr 19, 2019

Red Wings at the Little Caesars Arena: Is it better than the Joe?

(Story)

Mar 27, 2019

Elote, Empanadas, and Everything You Want: Two Guys Brewing Company

(Story)

Mar 08, 2019

Get to Greyline Brewing Company

(Story)

Feb 14, 2019

One Sport, Two Sports, Bad Sport, No Sports: What Is Kyler Murray Going to Do

(Story)

Jan 20, 2019

Math, Food, and Family: A Profile of Mr. Retan

(Story)

Jan 14, 2019

It's That Time of the Year: The Road to the Super Bowl

(Story)

Dec 17, 2018

Back on Track for the Playoffs: The Detroit Red Wings

(Story)

Dec 07, 2018

U of M Falls, But is the Fault Only on the Team?

(Story)

Dec 05, 2018

Nolan Weatherby: My Take on Winning Alpha Wolf

(Story)

Nov 12, 2018

Planting the Right Seeds: A Spotlight of Mr. Doyle

(Story)

Nov 08, 2018

Album Review: How Did We Get So Dark?

(Story)

Oct 12, 2018

Athletic Spotlight: Omari Lewis

(Story)

Sep 26, 2018

Hidden Restaurants of Michigan: Greenbush Brewing Company

(Story)

Sep 19, 2018

Can the Griffins Go All the Way Again?

(Story)

Sep 12, 2018

The David Bentley Tournament: A Win to Remember

(Story)