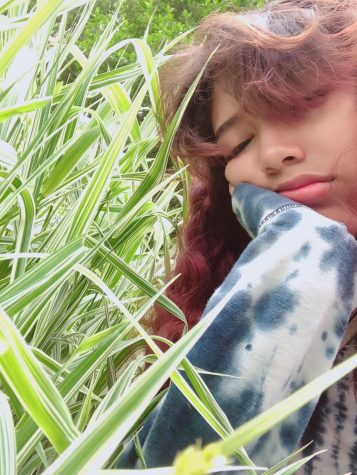 Hey, my names Mari Martinez and I'm the residential theatre kid of third hours journalism. You'll always find me asking everyone to buy whatever fundraiser the theatre company is currently doing, and I'll almost always have paint on my hands too.
I'm known to be the artsy, constantly doodling kid in all my classes but, I also enjoy doing other things too. I love listening to all types of music, minus the obvious country songs, and I absolutely love fashion and putting weird things together too.
My mind is always all over the place and I never really keep my thought process together or in one area, I go all over the place and you'll find that my articles tend to be written in much the same way.
Depending on the article, I highly encourage you, our readers, to express your opinions about what's being written in the comments. Don't argue, and try to keep it clean. I love looking at everyone's different opinions and seeing it from different lights, so feel free to express your outlook on the things I write.
Expect my articles to be about some pretty all over the place stuff, like theatre, kpop, fashion, skin care, art tips, special effects makeup, or even old movies from 30 years ago, to movies from a couple weeks ago. My taste expands pretty far, and I'm always open to taking suggestions for what to cover next.
Mari Martinez, Contributing Writer
May 15, 2019

Yailine Palomo, Heading to California.

(Story)

Dec 05, 2018

The Mighty Penguin Rant

(Story)

Oct 19, 2018

BTS in Chicago: An Unforgettable Experience

(Story)

Sep 27, 2018

Don't You (Forget About The Breakfast Club)

(Story)

Sep 10, 2018

James and the Giant Peach Cast is Set

(Story/Media)