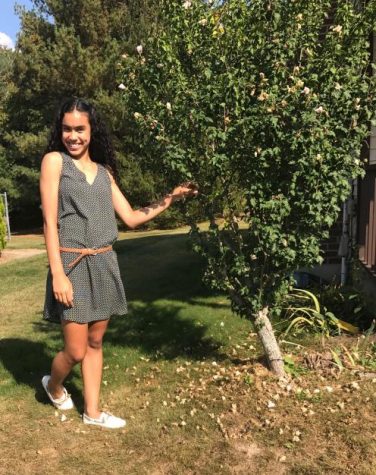 I really didn't want to write this; yet, here I am.
The basics before you keep reading, I'm 16 years old and a junior at Wyoming High. Now let me tell you about myself.
When I have free time my favorite thing to do is bake and cook food. I love to make cupcakes/cakes and experiment with the fillings and icings. Whenever I can learn to cook new food I feel like I can do anything. The more I learn the more knowledge I gain in cooking and baking food and desserts. Another thing I like to do is read although I can never find the time to read. Mystery and action books are my favorite genres to read about. I try to find books that interest me or are at a higher Lexile level to challenge myself. Baking and reading are my two hobbies I enjoy outside of school and sports.
My passion is playing basketball. Every time I play basketball it's like the real world doesn't exist. When I step on the basketball court all my worries and problems wash away as if they weren't there. I don't pay much attention to the stands, all I do is play. The thrill I get from playing basketball is like nothing else in this world. Basketball is my safe haven from everyone and everything.
Journalism and Business are my favorite classes in school. I love Journalism because I am free to write about what I want and it gets published for others to see. Journalism allows me to show another side of me most people don't see. In business, I get to learn about the business world and what really happens. I will get to learn how to build a resume so I can later apply for a job. Business is helping me figure out what I want to do in college. All in all both Journalism and Business class is helping me find out who am I and what I want to do down the road.
Kayla Hinton, Sports Editor
Mar 06, 2018

Seniors get the win in their final home basketball game

(Story)

Jan 24, 2018

Coach Vander Klay continues to lead on and off the court

(Story)

Dec 14, 2017

Movie Review: Justice League

(Story)

Dec 06, 2017

Basketball Features Seven Senior Leaders

(Story)

Nov 21, 2017

Vegan Thanksgiving recipes for you!

(Story)

Nov 06, 2017

Leaders of the Pack Class helps to get out the vote

(Story)

Nov 06, 2017

Senior Night for the volleyball team is an emotional experience

(Story)

Nov 01, 2017

Guts Before Cuts means basketball is coming

(Story)

Oct 26, 2017

The comforts of home at Arnie's Bakery Restaurant

(Story)

Oct 24, 2017

The Leaders of the Pack class pays off for students

(Story)

Oct 13, 2017

Join Wyoming High School at the Inaugural Trunk Or Treat on October 28th!

(Story)

Oct 13, 2017

A look back at ArtPrize

(Story)

Oct 03, 2017

Athlete Spotlight: Grace Kallemeyn

(Story)

Sep 19, 2017

Volleyball digs deep

(Story)