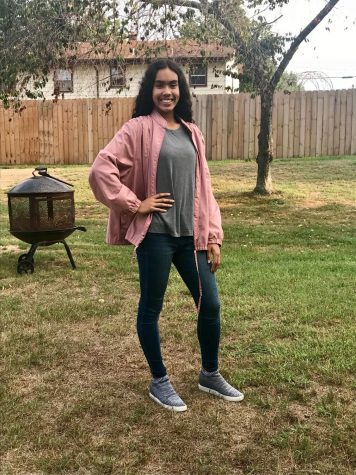 I prefer not to write about myself, but since I have you here I promise that this will be worth it (or not), it's up to you.
This is my last year of high school and I will be turning 18 in 2018. Time flew by so fast. I will be experiencing so many lasts it's overwhelming, but it will turn into many new experiences in college the following year.
Let me tell you about myself and what I plan on doing after high school.
A few of my hobbies include baking and reading. My favorite thing to bake is cupcakes because of the variety of combo you can make with them. I like to reading about exciting and mystery books.
My passions are basketball and business. Basketball is my favorite thing in the world because it is always there for me when I need it. A basketball can never let you down or give up on you. When I step on the court everything in my life disappears:no drama, no stress, no anything. It always releases me from whatever place I'm in and it's the best feeling.
Business fascinates me, because there is always something to learn about it. There are so many different aspects of business and I admire that about it.
If you would have asked me where I am going after high school when I was a junior I would have no clue. Walking into my senior year I am proud to say that I am verbally committed to Indiana Tech Institute to play basketball starting in the fall of 2019. I wouldn't think that I would have an opportunity to play basketball out of state to experience a different community and I'm very blessed that I do. I am excited to play with a good group of girls and a wonderful coach that is dedicated to the program. Along with playing basketball in college I also get to major in any business major I choose. It's the best of both worlds and I really think that this school is the best thing that will happen to me.
I am looking forward to what comes next for my future.
Kayla Hinton, Sports Editor
Apr 19, 2019
Mar 07, 2019

Senior Basketball Players Reflect on a Great Season.

(Story)

Feb 13, 2019

Wolf Den Has Deals for You

(Story)

Feb 05, 2019

Together We Create

(Story)

Jan 27, 2019

Hey Seniors! You Need to Read This!

(Story)

Dec 14, 2018

Home Game, Tonight!

(Story)

Dec 05, 2018

Boys Basketball Crushes Grandville

(Story)

Oct 25, 2018

Pumpkin Carving Tips and Ideas

(Story)

Oct 17, 2018

What is Video Production?

(Story)

Oct 11, 2018

Head Over to the Pumpkin Patch this Weekend

(Story)

Oct 02, 2018

Get your WOLF GEAR on Friday!

(Story)

Oct 02, 2018

Homecoming: A Day to Remember

(Story)

Sep 28, 2018

Meet the Funny & Bald English Teacher

(Story)

Sep 28, 2018

Gossip Girl Review

(Story)

Sep 18, 2018

All the Homecoming Information You Will Ever Need is Here

(Story)

Sep 13, 2018

Weekly Sports Wrap up

(Story)

Mar 06, 2018

Seniors get the win in their final home basketball game

(Story)

Jan 24, 2018

Coach Vander Klay continues to lead on and off the court

(Story)

Dec 14, 2017

Movie Review: Justice League

(Story)

Dec 06, 2017

Basketball Features Seven Senior Leaders

(Story)

Nov 21, 2017

Vegan Thanksgiving recipes for you!

(Story)

Nov 06, 2017

Leaders of the Pack Class helps to get out the vote

(Story)

Nov 06, 2017

Senior Night for the volleyball team is an emotional experience

(Story)

Nov 01, 2017

Guts Before Cuts means basketball is coming

(Story)

Oct 26, 2017

The comforts of home at Arnie's Bakery Restaurant

(Story)

Oct 24, 2017

The Leaders of the Pack class pays off for students

(Story)

Oct 13, 2017

Join Wyoming High School at the Inaugural Trunk Or Treat on October 28th!

(Story)

Oct 13, 2017

A look back at ArtPrize

(Story)

Oct 03, 2017

Athlete Spotlight: Grace Kallemeyn

(Story)

Sep 19, 2017

Volleyball digs deep

(Story)