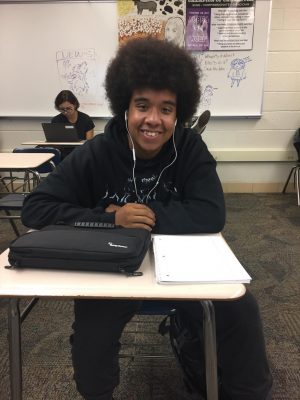 I don't really know where to start, so I guess I'll just jump in.
Hey, my name is Devin. I like to read, write, play video games and watch movies. Above all, I enjoy listening to music. Music will probably eat up a good majority of what I'll be writing about this year.
I'm a relatively quiet person when I'm around others I don't know, but I wouldn't describe myself as shy despite that. I think I'm relatively easy to talk to as well, so don't be afraid to ask me about something if you have any questions!
I more than likely have an opinion on most anything happening in the news at the moment. Ask me about pretty much anything going on right now, and I'll likely feel some type of way about it.
I spend a fair amount of time writing as well; I think I'd like to do it as a living. That being said, any constructive criticism is definitely welcomed. Don't worry about offending me, I have pretty thick skin.
I enjoy watching sports too. My favorite football team is the Minnesota Vikings, and my favorite basketball player is Paul George. If I'm not writing about music for one reason or another, I'm more than likely going to write about either the NBA or the NFL.
That's all for now! Again, if you have any questions for me, don't be afraid to ask. I'll be glad to answer.
Devin Jones, Entertainment Editor
Mar 28, 2019
Feb 19, 2019

The Mystery Man In The Mink: Who Is Big Boi?

(Story)

Feb 12, 2019

Outdated or Niche? Here's Why People are Buying Vinyl Again

(Story)

Feb 06, 2019

What's The Drop For 2019?

(Story)

Nov 13, 2018

Die Lit: A departure into all things catchy

(Story)

Nov 13, 2018

Mudboy Fails to Entertain

(Story)

Oct 09, 2018

A Tribe Called Quest's The Low End Theory: A timeless classic from one of rap's pioneer acts.

(Story)

Sep 26, 2018

Kids See Ghosts: A Review

(Story)

Sep 13, 2018