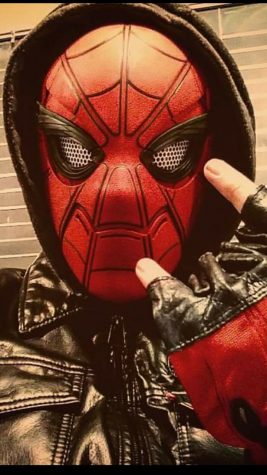 Hello there. My name is Dalton Flint and I am a writer for the school newspaper. With everyone that is born there is an origin. I'm obviously a human from Earth and like everyone in this world I do have hobbies. I like playing video games, sleeping, hanging out with my cousins as well as watching movies. I work at Celebration Cinema and in my opinion, it's the best job there is. I get into movies for free and I save a ton of money on food such as popcorn and pretzels. Sometimes I deal with the most low minded idiots on the face of the Earth and most times I encounter the nicest people that make my work day a lot better. My co workers are some of the nicest people you'll know and for working at Celebration Cinema for a year and five months, it feels like I'm a part of a new family. I used to go to Celebration Cinema as a kid with my grandma all the time. She used to take me to all the movies I'd want to see that day and I've always wanted to know what it was like to work in a theater.
My cousins are like the brothers I've never had and we get along like three peas in a pod. They are the reason why I like most of the stuff I do today. My cousin Tyler introduced me to Pokemon and Cartoon Network introduced me to the anime when I was seven years old. I've loved Pokemon since and my favorite game is either Pokemon: Platinum or Pokemon: Ultra Moon. My cousin Brandon helped me expand my knowledge of the Marvel and DC universe making us die hard Marvel and DC fans. My favorite superhero of all time is the one and only Spider-Man. Spider-Man has always been a role model whether it was on the big screen when I saw Spiderman 3 or when I watched the TV shows when I was younger. I've always liked Spider-Man's humor and personality and he seemed like a role model kind of superhero to look up to. When I was in 1st Grade, I dressed up as Tobey Maguire's Spider-Man for Halloween and everyone thought I was really cool because of the biceps I had with the suit. For the whole day I felt so strong and heroic and for a superhero that gave me courage and dignity to be myself, it was amazing to look up to someone that always did the right thing, no matter how venomous the situation got.
My parents were awesome growing up and really the greatest. They may be pains in the butt now but they're still my parents and they want to do what's best for me. My mom is usually a stay-at-home parent because she can't stand being a second away from my me and my brother. My dad works at a trucking company and recently went through surgery so I'm helping him around the house when needed. My father introduced me to my favorite childhood show called Ben 10. I was 6 when the show started and I was obsessed for six years.
Dalton Flint, Contributing Writer
May 15, 2019

Avengers Endgame Review

(Story)

May 02, 2019
Apr 16, 2019

Avengers: Endgame

(Story)

Mar 28, 2019

Us Might Leave You Shocked and Impressed

(Story)

Mar 27, 2019

Godfather 2 Review

(Story)

Mar 27, 2019

Pokemon Direct 2019

(Story)

Mar 27, 2019

Top 10 Movies in 2018

(Story)

Feb 28, 2019
Feb 15, 2019

I Love Valentine's Day

(Story)

Nov 12, 2018
Sep 28, 2018

Internet Challenges Are Out of Control

(Story)