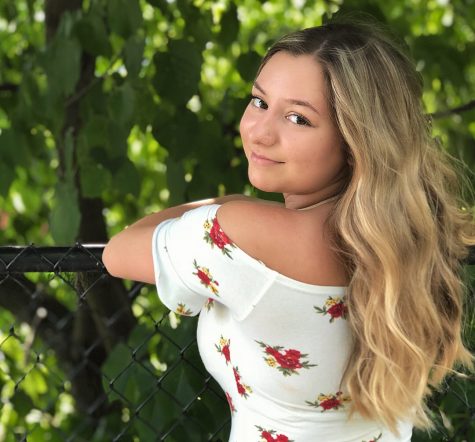 Hi! My name is Courtnee Raybon. I'm a junior here at Wyoming High School. I was told to write something about myself and it should be easy because who would know me better than myself? Even though I know everything about myself it's hard to put it all into words. This is definitely going to be a challenge. But hey, I like a good challenge. Wait, I just told you something about me. Great! I'm getting the hang of this.
My birthday is December 2nd, 2001. I was born in Manistee, Michigan; which if you don't know is up north towards Muskegon. You probably haven't heard of it because it's a tiny town where everyone knows everyone. I'm not bluffing.
I'm a prospering and evolutionizing teenager who loves to watch Netflix and drink coffee. I don't know what it is about coffee, but it makes me feel so good about myself. The smell of it puts me in a trance. I crave coffee 25/8; and if I don't get it...you don't even want to know about that. You might ask, "Are you really rambling about coffee?" But it's seriously so great that it comes in all types of forms and flavors. I mean, come on, you can get it three ways: iced, hot, and in a frappuccino. Caramel, mocha, vanilla, etc. It's such an amazing thing to have to decide every time that I order it. Maybe it's so easy for me to keep rambling about coffee because I'm craving it right now. It's consuming my mind. Netflix inspired me to be want I want to be. Watching TV shows in general helps me see the options that I am open to. Netflix has a variety of different shows with many main messages that we consumers can attach to.
Other than sitting in my room watching Netflix or being out on a run for some coffee, I am probably reading a book or buying clothes. I have a really bad tendency to waste all of my money on clothes that I probably won't wear; and my closet could tell you that firsthand. Most of the clothes that I buy stay hung up and never touched with the tag still attached. Maybe I just like to think that I have so many options to pick from. Who knows.
I guess I could go on and talk about what I want my future to look like. You won't find something that I'm more passionate about than my future. I have many plans for myself in the years to come. I've changed my mind a few times about what it is that I
really
want to do, and it definitely has to do with writing. I've found that when I write I get to tell my story, or maybe even someone else's. I can get a message across to someone and get people to listen to what I have to say. Out of high school I want to attend the University of California Berkeley. I want to get a degree in Journalism and become a writer for the Cosmopolitan magazine in New York City. In college I hope to practice music journalism, where I can travel to concerts and music festivals and write about them. Post graduating from college I would like to apply for an internship at the magazine and work my way up to becoming a prospering writer. Living in the big city in an apartment with a high ceiling and brick walls has been a dream of mine that I definitely want to accomplish. If I can do that I can say that I have made it in life.
Other than coming through with my career goals, traveling is the only other thing that I feel like I need to fulfill. Going on voyages all over the world in different areas is such an inspirational thing for a writer to have. That's a great tool to have in your toolbelt when you need to write about things. It allows you to have many experiences that give you various qualities in your writing. I hope to travel to as much of the world as I'm physically able.
To sum everything up, you can tell that I'm just a normal teenager with similar thoughts, and going through the same things you are.
Courtnee Raybon, Features Editor
Nov 02, 2018

Trunk or Treat Prospers at Wyoming High School

(Story)

Oct 04, 2018

Michigan's Rollercoaster of Weather

(Story)

Oct 03, 2018
Sep 28, 2018

Pinterest: A Gallery of Society's Ideas

(Story)

Sep 27, 2018

Mrs. Dolce Makes a Difference

(Story)

Sep 26, 2018

Ms. Tran's Classroom is Stunning

(Media)

Sep 12, 2018

Weeknd's new album is delicious

(Story)