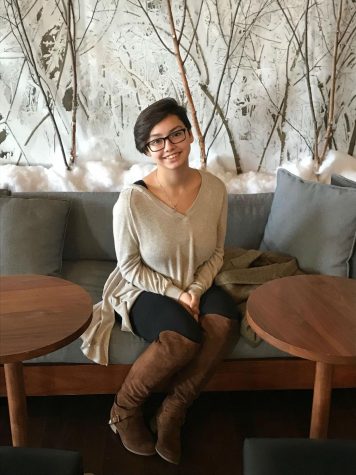 This is not important.
This is merely an assignment that I was given to tell you about myself.
I suppose the first thing that I could say is that I'm huge on music. It's my biggest passion. Listening to music is something I always do, no matter the time or place. I'm in the Honor's Choir. I've been involved in the choral program since the 7th grade, but I've been singing practically my entire life. Music is the way I'm able to express myself. The lyrics to some of my favorite songs explain the way I'm feeling when my words fail me. I enjoy practicing my ukulele, guitar and I somewhat dabble in playing the piano whenever I'm at church.
Obviously I have to spend a lot of time at school, even though I wish I could just be at home wearing my fluffy socks while drinking coffee and playing Minecraft. But I don't do much after school. Most of my free time throughout the week is taken up by work. I work at the Beltline Bar. Now. I can probably imagine what you're thinking. How are you able to work at a bar? Well, it's not just a bar. It's also a restaurant. I'm both a busser and a hostess there. I love being there. Now, I probably won't be there my entire life but I believe that it's the perfect starter job for me. I believe that it's really important to love your job or love the people you work with.
Outside of work and school, I don't do much though. I'm just like every other anti-social kid who does absolutely nothing during the day besides laying in bed while blasting music for 4 hours. Almost nothing keeps me entertained these days.
Oh, my name is Cora by the way.
That was not important.
Cora Longoria, Contributing Writer
May 10, 2018

Getting into the Swing of Things!

(Story)

May 01, 2018

The Weather and How It Affects People

(Story)

Mar 29, 2018

Brickleberry is insulting, yet humorous

(Story)

Mar 09, 2018
Mar 02, 2018

Festival of the Arts

(Story)

Feb 21, 2018

Living With Social Anxiety

(Story)

Jan 26, 2018

Poetry: The New Craze?

(Story)

Dec 14, 2017

Behind the music of the Alpha Wolf assembly

(Story)

Nov 21, 2017

A Thanksgiving send-off to the Navy

(Story)

Oct 17, 2017

The Wyoming Theater Company presents Freak the Mighty

(Story)

Sep 19, 2017

The sweet, sweet sounds of Guitar Club

(Story)

Sep 19, 2017

The Harbor is here to help

(Story)