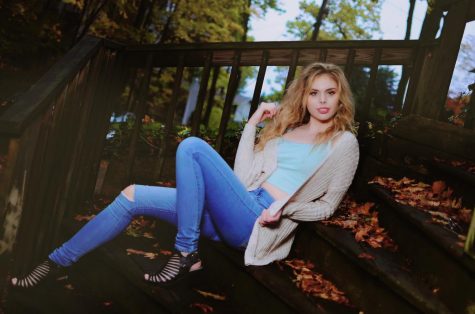 Hey! My name is Audra and as you can see, I am one of the many writers a part of the Wyoming Wolf Pack Press.
Not exactly sure what to say-but I guess to start off, I joined Journalism because I have always been fond of writing. My love of writing began in elementary school and just progressed over time. I am an intern for another website, and write book reviews! I hope to pursue a journalism and broadcasting career as I go off to college.
Currently, I am a senior and have been going to Wyoming Public Schools all my life. My hobbies consist of writing, music, and modeling. Thanks for reading!
Audra Schildhouse, Contributing Writer
May 18, 2018

Senior Farewell Article

(Story)

May 16, 2018

Time's Almost Up: Senior Spotlight

(Story)

May 11, 2018

Could This Be Magic?

(Story)

May 04, 2018

Student Athlete Profile: Megan Cvancara

(Story)

May 02, 2018

13 Reasons Why: Season 2

(Story)

Apr 30, 2018

Graduation Announcement

(Story)

Apr 18, 2018

I found spring in Myrtle Beach

(Story)

Mar 29, 2018

Caught Being an 11!

(Story)

Mar 14, 2018

What To Do For Spring Break

(Story)

Feb 28, 2018

Jumani: Back to the Jungle: Movie Review

(Story)

Feb 16, 2018

Reputation: Taylor Swift Album

(Story)

Feb 07, 2018

Job Shadowing at Amway!

(Story)

Feb 05, 2018

Does Music Help Students Focus?

(Story)

Feb 01, 2018
Jan 30, 2018

Forever My Girl: Movie Review

(Story)

Jan 17, 2018

Movie Review: Pitch Perfect 3

(Story)

Dec 13, 2017

Book Review: Wonder

(Story)

Dec 01, 2017

Stranger Things is binge-worthy

(Story)

Oct 27, 2017

The Battle of the Sexes inspires

(Story)

Oct 15, 2017

Experiencing ArtPrize: SOS

(Story)

Oct 13, 2017

Homecoming, a history

(Story)

Sep 29, 2017

How to organize your high school life

(Story)

Sep 17, 2017

Recommended on Netflix this month

(Story)