Sebastian Blum: 23 Hours and Three Airplanes, 48 Hours Later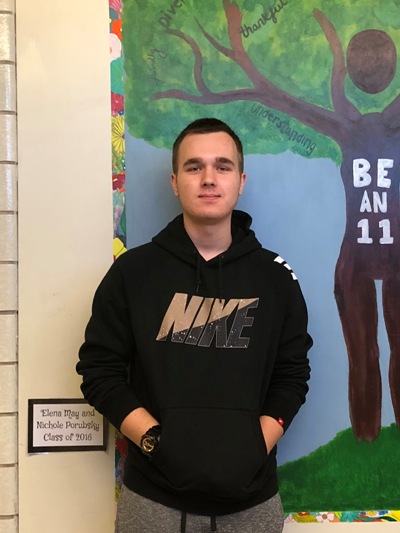 Sebastian Blum to you, may be some kid in your English class, the one that never smiles, and rarely talks. Although to me, Sebastian Blum is a fascinating, extremely intelligent, newfound friend. Prior to moving to Michigan in the middle of the school year in 2016 Sebastian lived in Australia where he "had like eight thousand friends". Now he doesn't really feel at home. "people here are so sensitive," he said. "They don't get my humor."
In order to obtain all this information, I tricked him into my car where he mentioned I drive like his mom, "speedy" and held him captive at the KDL for two-three hours. Before I get into grave detail about why he moved here, let's go over the basics.
His favorite color is blue, doesn't know why, he just likes it.
He really likes sushi, and scolded me for assuming all it was is raw fish. "Some have chicken, you know."
He has a very, very sarcastic sense of humor, each time he makes a joke he raises one eyebrow and smirks. "Most people don't realize I'm being sarcastic, " he said, using such body language as an indicator that he made a joke, and to not take grave offense.
He has the goofiest smile, though a rarity, truly astonishing- it fills you with a sense of warmth.
He told me he eats healthy, though I don't know if I believe that because when I asked him where we wanted to eat once, he almost immediately said Burger King. I later found out it's similar to a restaurant in Australia, but it was still kind of funny.
He's told he looks like Liam Payne, he listens to "old" music such as Pink Floyd and John Denver, and looks up to Alan Moore so much so he wears rings, just to be kind of like him. Well, actually right now just one ring; he can't wear more than one because his mom "doesn't want him looking like a pimp"
Also I think his feet are freakishly big, but don't tell him I said that.
23 hours, and three different airplanes later, here Sebastian is, in Michigan out of all places.
Sebastian and his mom moved here to support Jeffrey Pyne, his stepdad, who many believe was falsely convicted of killing his mother. Since arriving, he and his mother have been working continuously in hopes of Pyne's sentence being dropped. Sebastian's mom, Lena, "has done everything humanly possible" such as joining prisoner advocate groups, talking to attorneys, working with The Innocence Project and even making a Free Jeffrey Pyne Facebook page to spread word of his innocence.
Aside from the incarceration, the family seems to be pretty well put together, Sebastian joins his mom to visit Jeff at least once a week, and loves him as if he was his actual father. "She's (Lena) an incredibly intelligent person who would not have given her life to a guilty person," he said.
There have been five shows made on Jeff's case including 48 Hours and Dateline. Recently, 48 Hours interviewed Lena and will interview Jeff to bring back awareness of this truly sad case. The episode is intended to be over two hours long, but there has been no set date for the release.
I suppose I don't know what Sebastian Blum is to you, or if any of this changes how you see him. It doesn't for me, in fact the amount of perseverance and strength a person has to have.. to up and leave everything, move to a new country, start all over again in support of someone they love is truly inspiring.