The Killing of Patrick Lyoya: When Will it Come to an End?
On the morning of April 4, 2022, two years since the murder of George Floyd, another Black man was shot and his blood on the hands of yet another police officer. Congolese refugee Patrick Lyoya was 26 years-old when his life was taken by a GRPD officer.
Lyoya was pulled over that morning for supposedly improper registration. Dash-cam, police cam, a home surveillance system, as well as a witness' recording shows Lyoya having a conversation with the officer. The conversation then turned physical. Videos show Lyoya running away from the cop. The unidentified officer then used his taser on Lyoya twice during the physical altercation and at some point, the video shows Lyoya reaching for the taser as well. Mysteriously, the officer's body cam was deactivated at some point of the quarrel.
The officer's taser and gun were the only weapons at the time of Lyoya's death. Meaning, Lyoya and his passenger were unarmed.
The witness, Wayne Butler, was outside of his home watching the commotion while recording. In the back of Butler's mind, he knew it wouldn't end well. "I knew when the tussle began," Wayne Butler admitted to CNN. "If you tussle with a White man with a gun, and you're Black in America, you end up dead."
The video recorded Lyoya being pushed to the ground as the officer was on top of him. In a matter of seconds, the officer then pulls out his gun, shooting one bullet into the back of Lyoya's head, killing him instantly.
While the victim's family is in distraught over the loss of their eldest son, brother, and father to two small children, the killer cop is on paid leave and his police privileges have been suspended.
The Grand Rapids Police Department has put a wait on releasing the identity of the cop until there are criminal charges. However, angry citizens have decided to publicly release the identity of who many believe is Lyoya's murderer: Officer Christopher Schurr, along with his address, high school, and university across social media platforms. It is still unknown if Officer Schurr is responsible for Lyoya's death as the Michigan State Police nor the Grand Rapids Police Department have not yet confirmed if it is true.
The death of Patrick Lyoya has caused community activists such as the Grand Rapids Royal Black Panther Party, and hundreds of citizens to stand up and protest in front of the Grand Rapids Police Department, located in the center of Downtown Grand Rapids. Six days in a row, citizens and activists continued to protest and rally for justice for the Lyoya family, raising fists and chanting "Justice for Patrick" down the city's streets.
"I'm asking for the law to release his face, his image and his identification because I would love to know the person who has killed my son. I have the right," said Patrick's father, Peter Lyoya in a news conference last week. Peter told MLive that his son had a "big heart" and was a hard worker and should've "had a long life ahead of him."
Patrick Lyoya and his family left the Democratic Republic of the Congo back in 2014. He was the eldest of six children and has two children of his own of ages 2 and 3. "When we run away from war in the [Democratic Republic of the Congo], I thought that I came to a safe land," said Dorcas Lyoya, Patrick Lyoya's mother. "And now, I'm surprised and astonished to see that my son is shot here. That is my beloved son, and you know how you love your firstborn son."
Over 200 people have been killed by police this year, over 1,000 people were killed by police in 2021, being one of the deadliest years on record. And since the death of George Floyd which was back in May of 2020, not much has changed for Black people. Just this past February, 22 year-old Amir Locke was killed by police in Minneapolis after being awoken during a no-knock warrant for a homicide investigation. Locke was not named in the warrant. And no charges have been filed for the cop responsible for Locke's murder.
The neighborhood in the southeast of downtown where Lyoya was murdered is now full of mourning citizens as flowers, candles, and teddy bears were set around a tree near where he was shot as a memorial.
A funeral has been planned for Lyoya for Friday, April 22 at Renaissance Church of God in Christ. The cost of the funeral will be covered by the Rev. Al Sharpton's National Action Network along with a eulogy. The funeral will be for public attendance.
Many questions have not been answered for the Lyoya family, as well as the infuriated people of Grand Rapids that we hope will be answered soon by the Michigan State Police and the Grand Rapids Police Department. The Royal Black Panther Party of Grand Rapids is hosting a march to the City Commision meeting to continue protesting for justice for Lyoya and his family on Tuesday, April 26 at 5:30pm.
We demand justice for Patrick Lyoya.
Leave a Comment
About the Contributor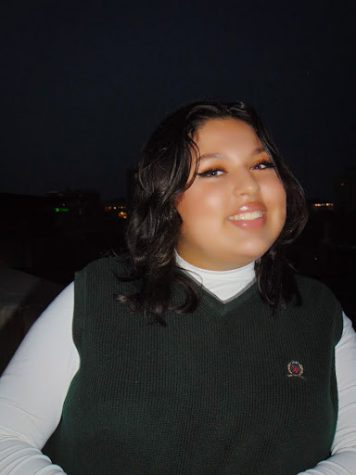 Illiana Valdez-Ortega, Contributing Writer
Hey! I'm Illiana, a Mexican-American photographer and journalist, a Scorpio, Prince's #1 fan, and currently a senior just waiting to walk up that stage...