Why 'You' is the Best Show on Netflix
You first premiered back in 2018, a thriller based around average bookstore manager Joe Goldberg (Penn Badgley) who turns out to be not so average. After meeting Guinevere Beck (Elizabeth Lail), a student and aspiring writer, he does anything and everything he can to get the girl, even if it means murder. Throughout the show, Joe is constantly having to get past Beck's friends and past lovers, and current lovers.
The cast of this season is also pretty great: Peach Salinger (Shay Mitchell), the rich girl who doesn't always get what she wants, Blythe (Hari Nef), one of Beck's classmates who might just beat Beck at her own game, and Dr. Nicky (John Stamos), who's guilty, but not of murder.
The show was inspired by the book with the same titles, written by Caroline Kepnes, who also wrote the book inspired by the second season of the show, Hidden Bodies.
The first season brought so much to the table, including great performances from Penn Badgley, who you might've seen in Gossip Girl, playing a similar role as Dan Humphrey. The first season is full of a mix of suspense and lust. With a twist ending, we know this show isn't coming to the end.
On December 26, 2019, You released its second season, something a lot of us fans waited for deeply. The setting changes from New York to Los Angeles and Joe has changed his identity to Will Bettelheim. He starts anew, running away from his demons from the first season coming back to haunt him. And what better place to run away than L.A.? While hiding in L.A., Joe meets Love Quinn (Victoria Pedretti), a manager at a shop he works at. As their relationship starts platonic and ends up romantic, we find out Love has demons of her own.
Joe then goes back to that obsessed stalker, finding out as much as he can about this new girl. Throughout their relationship, Joe juggles his past, a new start in life, and Love's situations, including her twin brother Forty (James Scully), who is struggling to make it in the film business and being sober.
This season includes new characters and cast; Ellie Alves (Jenna Ortega), a teenager who wants to live the dream of being a director, Henderson (Chris D'Elia), a comedian who isn't much of a good guy, Delilah (Carmela Zumbado), older sister to Ellie who also wants to get justice and put Henderson behind bars, and so many more great performances.
Again, the show does not miss when it comes to suspense, cliffhangers, and having you sitting at the end of your seat and biting your nails. So far in the show, this season is possibly the best because there's so much more character and backstory behind the characters.
On October 15, 2021, You released their third season after two years. Because of the COVID-19 pandemic, many shows and movies were canceled or pushed back, this included You. But it's finally back and fans are stirring up theories and excitement.
This season brings us to Joe and Love, married and starting their family with their baby boy, Henry. At the finale of the second season, we were told Love's baby was actually a girl. In a teaser released in early September, it turns out the couple are having a boy. The trailer for the new season had been released back in the fall, showing Joe and Love embarking on their new journey of parenting while also balancing their bad habits in the suburbs.
This new season, once again, has a new cast and characters who turn out to be the neighbors living by Joe and Love. In the show, Joe and Love struggle with their marriage and there's some dark history with their neighbors that get in the way of getting back to normal for the Goldbergs with a shocking ending at the end of the season.
Once again, the show does a great job of its cast: Marienne Bellamy (Tati Gabrielle), Joe's coworker who sparks a "friendship" for their love of books and similar childhood history, Natalie and Matthew Englerbor (Michaela McManus and Scott Speedman), the married couple living next door to the Goldberg's, who have some secrets and intentions, Theo Engler (Dylan Arnold), Matthew's son from his first marriage who is quick to befriend Love, and so many other new characters introduced.
Right before the release of the third season, it was announced that there would be a fourth season and production started early this month. We have yet to see what Joe Goldberg is up to this season and what plans he has in store.
Leave a Comment
About the Contributor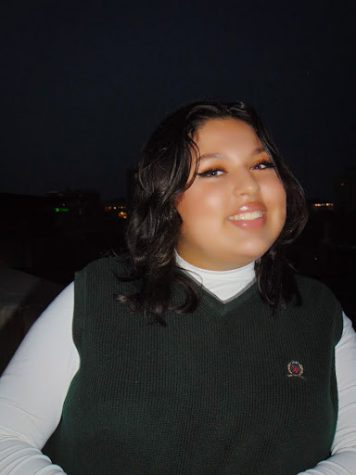 Illiana Valdez-Ortega, Contributing Writer
Hey! I'm Illiana, a Mexican-American photographer and journalist, a Scorpio, Prince's #1 fan, and currently a senior just waiting to walk up that stage...