Things To Do During Spring Break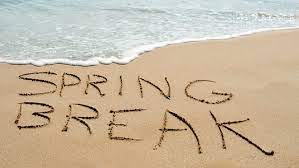 We are so excited for spring break, only to find out that we are staying in Michigan. It might seem boring, so here are some things you can do during spring break.
Craig's cruiser is considered an amusement park, which in reality they are just known for their indoor and outdoor go karts. Although, they have more to offer, including laser tag, which is super fun with a big group of people. There's a small trampoline area as well as a ninja warrior course. There's a small roller coaster, bumper carts, zip lining, golf, VR, and their big arcade. They also include their pizza buffet in their packages. Since we are talking about spring break, Craig's Cruiser has their spring break wristbands which are limited, so if interested you should order as soon as possible.
Skating is such a classic way to have fun with others. At Tarry Hall they have an ovalish platform, they usually have their lights turned off but with disco lights and have music on, so everyone can vibe. You can choose rental skates or rollerblades. And even if you don't know how to skate, you can skate on the sides of the platform that have a rail, or you can also rent a skate helper. They have their admissions starting at 8 dollars. They also have some events happening during spring break,, so you should check them out.
Although they don't have any spring break deals, it's always fun to just spend the night trying to get strikes. Spectrum lanes offer open plays, but they often have tournaments. Going bowling during spring break sounds like a fun activity. They seem to also have different types of packages if considering going in groups, which include food beverages and shoe rental. And if you are bad at bowling, they have lane bumpers that you can turn on for free. If you don't like bowling, they also have live concerts on Fridays and Saturdays if interested. They have the dates of all bands performing on their website.
This place is very similar to Craig's Cruiser, except they are known for their indoor trampolines. Rebounders offers many things like multiple trampoline areas, a ninja warrior course, a dodgeball area, a foam pit, a jump tower, laser tag, an arcade and more. Things that are required before you start jumping is signing a waiver, and buying their grip socks, socks are $2.99. This place is really fun to go to, especially if you go with a group of friends, you can spend hours there and not know it. The reviews for this place say positive, but also negative feedback regarding customer service or their place in general. "The kids had a blast. This is our second time going to this location. Definitely recommended for anyone with small kids" said someone with positive feedback. And some negative comments like "Worst dodgeball ball refs and kids cheat and bully" and "Waited for an hour for help and didn't do anything, made the experience terrible" said a customer. The rest of the negative comments were the same thing, with customer service, and their little kids.
Dave & Busters is fun, It's nothing like trampolines, or go karts, It's simply just a huge arcade, with an eating area. The reviews on the website say mostly positive things, and if it is a negative review, it's mostly about the service and food. "Overall experience was good! Would have appreciated some hand sanitizer stations around the game room floor". Said a customer. Also, "I didn't see anyone walking around wiping down machines periodically". And this review "No tables, no wings no steak and food is nasty. Then you wait 2 hours for a booth that I have seen that has been available for a long time without being cleaned". Said another customer. I would definitely recommend this place for a night of boredom, maybe just eat somewhere else beforehand. On their website, they say that they have 7 new games coming this summer. This place would be so much fun with friends during spring break.
Leave a Comment
About the Contributor
Hayde Rodriguez, Contributing Writer
My name is Hayde Rodriguez, I am currently a Senior at Wyoming High School, class of 2022!!. I am not much of a talker, but I am a great listener. I am...