Best Places To Snowboard In MIchigan
When it comes to snowboarding, it will always be my number one choice to do in the winter. It honestly is the only thing I truly get excited about when snow finally touches Michigan ground. I've been snowboarding since I was six or seven years old and It was the first thing I learned to do when I came to America.
Growing up, I would always snowboard with my brothers or we even made jumps or trails in our backyard when we were little. Snowboarding is a true passion of mine so here are the best places to go snowboarding in Michigan!
Number one would be Bittersweet Ski Resort. Personally one of my favorites. It's located in Allegan county and there are 20 runs of varying grades and a snowboarding terrain park, plus you can get lessons there and there are restaurants on the park. It is rated 4.5 out of 5, which is pretty good. The snow is great, the runs are amazing, this is truly a perfect place to go with family or friends when you wanna hit the hills.
Number two is Cannonsburg Ski Area. It's located in Kent county. I went here for the first time a few days ago and I was surprised. I might like it more than Bittersweet, the runs were amazing, and there were a bunch of trails that are for more skilled riders, but overall it was a lot of fun and I truly enjoyed it. Not only do they have just snowboarding there but they have the cute little bubble igloos as well as snow tubing, which was a lot of fun when I went. It is rated 4.3 out of 5, which in my opinion, should be rated higher because there was truly nothing bad about this park. This is truly such a great park, the trails are amazing, not too fluffy, not too bumpy, and not too harsh and that's why I love Cannosburg so much because of how perfect this park is.
Number three is Mulligan's Hollow Ski Bowl, I personally have not gone here yet but I've heard it's great. It is located in Grand Haven and was a WWII boot camp but now is a nonprofit skiing & snowboarding hill with 6 slopes, and rope tows. This is a perfect place to go with family, they host many events to do with friends and family. It's the perfect place to learn how to snowboard for the very first time. This is rated 4.5 out of 5. I can't wait to go here soon and try it out. Seems like a fun place to go and a great time to spend with friends and family or maybe that secret someone.
Number four is Pine Knob Ski Resort. I've gone here a few times and it honestly was a really good experience. It is a 6-chairlift resort offering 17 ski runs, 3 snowboard parks, lessons, rails and jumps. It's located in Independence Township which is a little far but it's a really fun place to go and have fun and try new jumps or rides. It is rated 4.5 out of 5, great place to go!! I went here with mainly my friends and we all enjoyed it, nothing really was considered bad, sometimes the trails were really bumpy but other than that, it truly was a amazing and fun experience.
Now that you have all the recommendations and advice you need, you should try out snowboarding yourself! It takes a lot of patience and practice, but it will be worth the wild ride and fun you have.
Leave a Comment
About the Contributor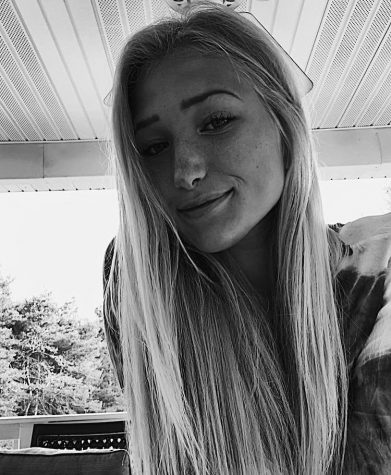 Stella Biriouk, Contributing Writer
Hi, I'm Stella, this is my first year at Wyoming and I'm a junior. I came from Hudsonville and here are a few things about me that I guess are cool, I...