Books that should be turned into movies
Books That Should Be Turned Into Movies!
There are many books that I've read where at the end my first thought is: "oo I can't wait to watch the movie" and then I find out THERE IS NO MOVIE. Some books just need to be a movie because of how good the book was, movies truly bring out that invision we don't get in books. Here are a few amazing books that I've read, that you should totally read, but need to be turned into a movie now.
First one is, The Cellar By Natasha Preston. This book is definitely one of my all time favorites. It may be very triggering for readers since this book is a gut-wrenching, terror novel involving murder, kidnapping, rape, and abuse. It starts off with a young girl named Summer Robinson who is your average girl, very smart, out-going, and she's very spunky. She is a worrier, she worries about her appearance but has her amazing family and her boyfriend Lewis by her side through day and night. One night she decides to go to a party without her family on top of her. Everything is perfect until a man named Colin takes her and gives her a new identity. She is taken to a cellar with three other girls, Rose, Poppy, and Violet, who have been there for months upon months, even years. Summer is now Lily and she is forced to live this fantasy life that her kidnapper has given her. Searches start after her family and Lewis find out she's not home or answering the phone. Summer needs to get out, she has hope, but Colin will do anything to keep his new "family" together for as long as he can. The girls try to convince Summer to forget everything and move on but she refuses to forget about her family, friends, Lewis, and all her memories she gained throughout life, the good and the bad. This book truly got me on the edge of my seat and if a movie was created, I know I'd be on the edge of my seat as well.
Second one is The Lost By Natasha Preston. One of my favorites as well, I think you get the hint that Natasha Preston is my favorite author. The book takes place in a small town called Aurora, teens have been going missing day and night, but once a classmate that Piper and Hazel knew, disappears, they become determined to find out the truth of what not only happened to her but all the other teens that went mysteriously missing. While Piper and Hazel try to find the truth, they meet three day dreaming and rich grad students who everyone knows. But what they don't know is, they are Piper and Hazel's kidnappers. The two girls are taken to a building that one of the guys owned, away from everything and everyone. Hidden. Now this isn't a normal building where they are held captive. This is a game, a game where they are tested in all these different rooms for survival. Piper and Hazel won't give up without a fight, but what happens when they are pinned against each other? This book was the most unpredictable book I've ever read, so many turns took place that left me surprised. If this book was a movie, I predict it would be the most watched with how suspenseful and unpredictable it was.
Coming in third is, Girl Stolen By April Henry. This was the first book I've read from this author and I truly got hooked on her and read all her books. The book is about a 16 year old girl named Cheyenne Wilder. She falls asleep in the back seat of her mom's car while she's getting medicine. Cheyenne is sick with pneumonia. All of a sudden, the car is stolen from the pharmacy parking lot, and not only is Cheyenne sick, she's also blind. Her kidnapper, Griffin, figures out she was in the car, he hadn't meant to kidnap her, he just wanted the car. But Griffin's dad finds out that Cheyenne's father is the president of a huge company and they now decide she is worth keeping. She is held for ransom, and now she has to find a way out and survive this, but she's blind, will she make it? This book was amazing and very suspenseful, every chapter had an unpredictable ending. This book as a movie though? I would 100% recommend it to watch but sadly there's no movie.
These three books are truly amazing and I'm completely obsessed with them. I hope one day they will become a movie with how creative and suspenseful they are. I would recommend reading them and giving it a try. With the amount of twists and turns, you will love them.
Leave a Comment
About the Contributor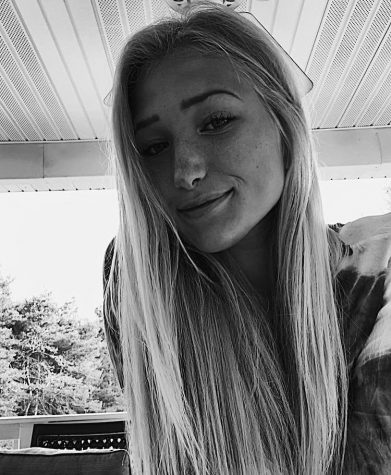 Stella Biriouk, Contributing Writer
Hi, I'm Stella, this is my first year at Wyoming and I'm a junior. I came from Hudsonville, I played soccer, waterpolo, and did swimming there. Here are...