An Evening With Silk Sonic: Album Review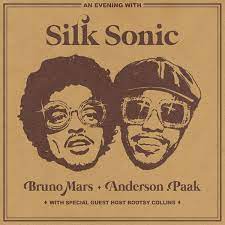 Finally! The time has come! Bruno Mars and Anderson. Paak have made a great comeback, coming together as Silk Sonic in their newest album, An Evening with Silk Sonic. The album was released on November 12 and with its first week of release, its first week sale numbers are pretty high. With Bruno Mars not making an album since 2016, and Anderson. Paak not releasing anything since his released 2020 single 'Lockdown', the two came back with 70's soul.
An Evening with Silk Sonic is bringing back 70's R&B, full of very romantic and sensual but also groovy and upbeat vibes. While I listen to the album, I can hear some Motown and some inspiration from other soulful artists and groups, including The Spinners, Earth, Wind, & Fire, Al Green, The Isley Brothers, and Marvin Gaye.
The album includes nine songs and is thirty-one minutes long. The first song that was released to the public was 'Leave The Door Open' which was released back in March. That song, along with 'Skate' and 'Smokin' Out The Window' which were also released before the album itself, gained a high and rapid popularity. Thundercat and the incredible Bootsy Collins were added to the album as well.
'After Last Night', which is a deep and passionate love song, is about Anderson. Paak's seductive experience with a woman that makes him want to "throw my phone out the window/ there's no player in me," I hear a lot of The Isley Brothers and specifically their songs 'Between the Sheets' and 'Footsteps In The Dark' and Marvin Gaye's "Sexual Healing". The song is very similar to Mars' past sensual songs such as 'Versace On The Floor' and 'Calling All My Lovelies'. The harmony between Mars and Paak is silky and smooth as velvet, along with Thundercat's ooos at the beginning of the song.
As I listened to the album, I noticed a lot of humorous lyrics sung in the songs as well. Especially in 'Smokin' Out The Window' as it's about a woman whose kids are "runnin' around my crib like it's Chuck E. Cheese" and got Mars spending "thirty-five, forty-five thousand up in Tiffany's" The song gained a lot of attention and even became a trend on TikTok with the use of Paak's line "this b*tch got me payin' her rent, payin' for trips." It's agreeable that although the song is very humorous, it's catchy and includes a soulful groove.
Like some of Mars' older songs such as 'Uptown Funk' and 'Perm", with the upbeat use of drums and percussion, '777' and 'Skate' includes the same thing and just makes you want to get up and dance. The two songs, including 'Fly As Me', which is stirred by Paaks drumming, can be compared to James Brown as Paak tries to "boo you up like it's the Apollo."
Hands down, the best song on the album is 'Put On A Smile', an emotional ballad about ego, hiding true feelings, and faking a smile while heartbroken. The emotions in the song are definitely there as Mars and Paak sing out their heart and soul in this song, especially when the drums crescendo and Mars takes full advantage of his falsetto and reaches to the top. The song sounds somewhat similar to Marvin Gaye's 'Distant Lover' and The Spinners' 'How Could I Let You Get Away".
An Evening with Silk Sonic is definitely an album worth listening to. In my opinion, it's one of the best albums of 2021. And that leaves us with the question: Will we get another evening with Silk Sonic? I guess we'll have to wait to find out. "Happy trails baba."
Leave a Comment
About the Contributor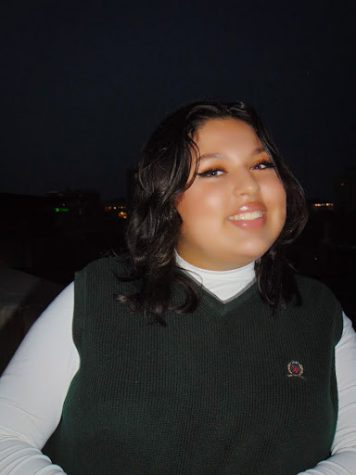 Illiana Valdez-Ortega, Contributing Writer
Hey! I'm Illiana, a Mexican-American photographer and journalist, a Scorpio, Prince's #1 fan, and currently a senior just waiting to walk up that stage...