Culture on Social Media
Recently, social media has been spurring the spread of different cultures. Mostly on TikTok, people of different cultures have shared their traditions and cultures with the world. There's a trend on TikTok where people show their culture from both or just one parent through pictures of the country and culture.
Another trend that has been going on TikTok is the dance called Kapa haka, danced by Maori, the indigineous people of New Zealand and people from other Polynesian countries, using the song '35' by Rob Ruha and Ka Hao. The feelgood hit is sung in English and the Maori language, also known as Te reo.
In these videos, men and women dance with wide eyes and men stick out their tongues as women point out their chin, this is called Pukana. Pukana was used by Maori to intimidate and scare off bad spirits. In songs, it is used to emphasize words and performances. It is also used as a welcoming and to demonstrate power to visitors.
Other people from different ethnicities have joined in the dance, appreciating the Maori culture. Questions from curious users have been surfacing the thousands of videos, asking about the culture and traditions. Support and appreciation for the culture has also been surfacing the videos,
A trend that was going around TikTok was the celebration of Dia de los Muertos (Day of the Dead). Dia de los Muertos is a one night celebration of the Dead, remembering their spirit and bringing gifts in remembrance. The holiday is moreso celebrated in Mexico but is also celebrated in other regions.
An ofrenda (altar) is made for the holiday, with pictures of the Dead and marigold petals that are spread all around and on the ofrenda, along with a trail for souls to find their way to the ofrenda. Different ofrendas were all over TikTok and the making of the ofrendas for the holiday. Again, the trend got a lot of positive attention from users appreciating the holiday and its history.
This month is full of holidays and celebrations for different countries. November is Native American Heritage Month, recognizing Native communities and their traditions, history, and noticing the everyday struggles of Indigenous people in the U.S. Also in November is Diwali, a five-day festival, celebrated by millions of Hindus, Sikhs, and Jains. Although it's not until February, the Chinese New Year is right around the corner. Hopefully we'll see some more trends and cultural appreciation for more cultures!
Catherine Palacios is a senior here at WHS. For Catherine, she's noticed some representation of culture but mostly around cultural holidays. "I feel like people definitely try to rep their culture in their bios, like you always see flags. I see that a lot," she stated. "But on social media, they only really do it on holidays or for special occasions,"
Catherine believes that cultures need to be shown more on social media. "I feel like the people that need to be introduced to culture, like people who are ignorant to other people's cultures. But I feel like people should still be proud and should show off because culture can be really beautiful and show off how beautiful their culture is."
Leave a Comment
About the Contributor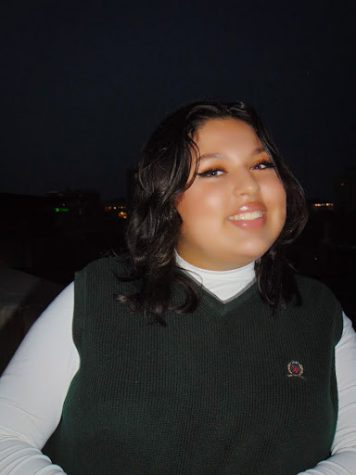 Illiana Valdez-Ortega, Contributing Writer
What's up! I'm Illiana, I'm seventeen, a Mexican-American photographer and journalist, a Scorpio, Prince's #1 fan, and currently a senior just...