WHS Actors Back on Stage!
It's official! The Wyoming Theater Company is back in business! And as a great way to start off their comeback, they're doing Mel Brooks' musical, Young Frankenstein! And last year's seniors, along with 2020 seniors are also coming back to make their last performances. A lot of excitement is stirring around WHS, seeing what we've missed out on for almost two whole years from our theater company.
Anthea Pearson is a senior and is a part of the theater company and has been a part of the company for quite some time. "I joined the theater company in seventh grade. I was actually one of the first seventh graders to ever be casted in this company in its twenty-six year history," she proudly stated. Being a part of the theater company has really opened Anthea's eyes to new things. "We've done so many different types of workshops. We've done improv, we've done writing workshops, we've done musicals and plays. I've been exposed to so many types of acting and improv and all of that so it really has opened my eyes,"
Because of COVID, the theater company has been deeply affected. "Sadly, we were putting on a production of Young Frankenstein which is what we're doing now. In March of 2020 and two weeks before our opening show night, we got shut down because of COVID so we weren't allowed to perform that. And then in the next year, 2020 to 2021, we worked on a monologue workshop but we were not allowed to perform either so we kind of missed a year and a half of shows,"
For Anthea and the rest of the cast, it was a huge relief to be back on stage. "We just found out that we are allowed to perform without masks and do dress rehearsals without masks and I am so relieved and so happy that we are going back to normal for theater," And besides performing without a mask, Anthea also has other things she's eagerly looking forward to. "I am looking forward to costumes and the show dates!" Anthea said excitedly. "The costume and sets and everything are crazy, super unique and different from our other shows and I'm very excited to put on our show and show everyone in Wyoming,"
She also believes that it was a great idea to invite past seniors for their last show. "For some of them, this was their first time playing a lead role for this company and they got robbed of it so I'm very happy that they are allowed to come back to reprise their roles for the first time," And for her and everyone else who has been a part of theater, a huge weight has been taken off of everyone's shoulders. "It would've been way harder to basically recast our entire leads for the show." she said. "We would basically have to start from square one but thankfully we were able to bring them [past seniors] back and we are further ahead than we would've ever been."
Jeremy "Jer" Schnotala is the director of the theater company. When asked what was challenging about the theater company's comeback, his answer was pretty humorous. "I like the word "comeback", though I don't know as it is truly a comeback. I've been calling it a resurrection. Resurrecting Frankenstein…with an obvious pun on Dr. Frankenstein's monster and our bringing a show that was essentially "dead", back from the grave," he included. "In terms of challenges, theater is always challenging and difficult, so that was no surprise. The new added challenge was practicing and rehearsing with masks, but everyone has been so wonderful about it,"
With Young Frankenstein right around the corner, Jer's very enthusiastic for showtime. "I'm looking forward to finally staging the show we began working on in January of 2020 and were only three weeks away from performing when we shut down because of the pandemic," he mentioned. "Here we are again, three weeks from the show, and it's actually happening this time. We are thrilled to share with the community this amazing show and the year and a half adventure we've all gone through to make it happen. With us, thankfully are the five lead actors who graduated back in 2020 or 2021 and we are equally thrilled that they get to finally have their senior show,"
When asked if he has any plans after Young Frankenstein, Jer gave an odd reply. "That's a secret, so mum's the word."
One of the five actors to come back, Carlos Trujilo-Caracheo, was a senior who graduated back in 2020 and did not get to have his last highschool memories where he loved most, on stage with his fellow thespians. For him and possibly everyone else in the company, there was a mix of emotions he experienced. "It was depressing like most of the year," he said. "We had encouragement that there was to be a minor delay, but I think most of us gave up that hope after what would've been spring break. It hurt for a while knowing we were so close but I think accepting what had passed was a big step in being able to focus on what came next for me,"
Although there are some nerve wracking emotions, Carlos has support all around him. "Like I said, accepting was a big thing for me, so it's a little bit of whiplash. I was finally getting ready to throw myself into my craft at school and move on to something new." Carlos voiced. "I think most of us returning had the same trepidations about picking back up something we had already let go. What makes it all the more unnerving is the fact that for me as an artist, I find most pleasure in the process of preparing a show. We had mostly finished that process by the time quarantine hit. I am glad however that I had some supportive friends who wanted us to come back. While I do still feel out of place, I find myself feeling as if I had never left in the first place. I am of course excited to be able to showcase all the amazing talent we have to offer,"
And along with not having his last show, Carlos not having his end of senior year was a missing puzzle piece of his last year of high school. "We were fortunate enough to have had only the end be taken from us, unlike the classes after us who have had to deal with COVID for the entire year," he mentioned. "So I think for sure doing this show feels like a piece finally being placed but at the same time there were many other things that I'll forever be lost like prom, skip day, my final band concert. All is to say though that I am very glad that I get to finish off what I'm hoping is going to be an amazing adore with what I know is an outstanding company."
Students, staff, and families in Wyoming are looking forward to the Wyoming Theater Company's comeback! Show dates for Young Frankenstein will be November 18, 19, and 20 and they all will be at 7pm. Tickets for students and those under 18 will be $5, tickets will be $10 for anyone over the age of 18. If you show up to the shows, be on the lookout for Anthea Pearson, playing Inspector Hans Kemp and Carlos Truijlo-Caracheo playing Dr. Frederick Frankenstein!
View Comments (1)
About the Contributor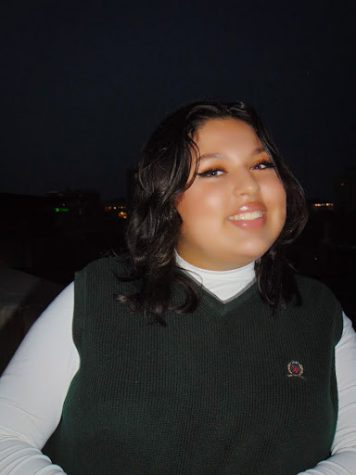 Illiana Valdez-Ortega, Contributing Writer
What's up! I'm Illiana, I'm seventeen, a Mexican-American photographer and journalist, a Scorpio, Prince's #1 fan, and currently a senior just...