Top three movie franchises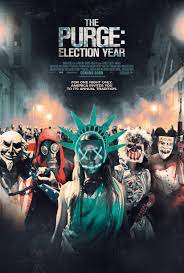 What's better than watching a movie, liking the movie, and finding out that there are more movies, probably the best feeling. I will be writing about my top 3 franchise movies and review why you should watch them.
The Purge (2013-2021)
The purge has to be one of the people's best franchise movies. It gives a chilling realistic story about a killing spree during elections. There are 5 of the purge moves and each has had their own successes. The purge has an average of $107,073,00 total in worldwide box office. These movies are about a world that lives in crime daily, and around election day or i'm assuming any time during the summer like July, everyone has the right to commit a crime and it will be legal for 12 hours. In that world hospitals won't be available until after the 12 hours. Each movie has a main character or characters who are trying to survive. Each movie has a different plot but same idea, some characters even appear in the other movies, to tie everything together. The purge movies all together score an average of 4.9/10 and an average of 45% on rotten tomatoes. The actors in each movie did such a great job, the creators of these movies did a great job picking the cast for each move. I'd give the acting portion of all of them an average of 8.5/10. The soundtrack choice fits so well with the movies. I would give an average score of 8.2/10 overall, although the movies were chilling and were full of thrillers, there were some movies where the plot could have been better.
Final Destination (2000-2011)
The Final Destination film franchise has to be one of my favorite franchises out there. Final Destination has the same plot for every movie but different stories, some may even connect to other movies. These movies are about a group of people doing an activity, like getting on a plane, a roller coaster, going on the freeway, crossing a bridge, etc… one specific person has a vision where they see how they will die in that activity. The person tells as many people as they can to not do the activity showing them that they will die, some people didn't believe it and still did the activity, they then died. In the order that the people avoided the activity was the order they were going to die. Some characters cheated death but sooner or later in a different movie you can see their outcome. For old movies these have great acting, the quality of the filming isn't as good as you expect it to be, to be fair they were released in the 2000 's. Final destination has an average of 6.5/10 on IMDb, and an average of 42% on rotten tomatoes. In my opinion I think the movies deserved justice. I would give the movies a solid 8.9/10. I love the plots in each movie. The acting and quality could have been better but not much is expected since these were filmed almost more than 20 years ago today. Overall I recommend this film franchise.
Fear street (2021)
Fear Street isn't really known as a franchise but known as parts, there's a part one called "Fear Street Part One: 1994". The Fear Street franchise all have different plots but they all are connected to the same storyline, watching them in order would make most sense. Part one: 1994 is about a town divided into two, one is Sunnyville where all of the rich people live and they get whatever they want, and Shadyside where all of the people who aren't cared for, live. A group of teens awake the witches grave and they try their best to save Sam, the girl that was possessed by the witch. The ending of 1994 takes on to part two of Fear Street Part two: 1978 has the same gist of 1994, there was a person possessed by the witch and there was deaths, this time it happened at a camp, multiple got killed by Tommy, and even the ghost of past killers who as well were all "possessed by the witch". Watching Part three: 1666 pulls all of the stories together, there is a huge plot twist and a few minutes before the movie ends it comes back all the way to the 1994 story. Watching them in order and at around the same time periods, it feels like a circle, 1994 introduces 1978, then back to 1994, 1666 is then introduced by 1994, pulling all of the storylines together. An average rating of all 3 movies is a 6.5/10 on IMDb, and an average of 88% on rotten tomatoes. If i were rating the movies i would give them an average of 9.5/10, there was such great acting (especially in 1978), the soundtrack fit great with the time periods, the performance overall is the reason why i give it that rating.
Leave a Comment
About the Contributor
Hayde Rodriguez, Contributing Writer
My name is Hayde Rodriguez, I am currently a Senior at Wyoming High School, class of 2022!!. I am not much of a talker, but I am a great listener. I am...