ArtPrize Returns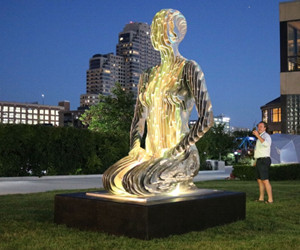 After a long 70 days of Michigan being on shutdown and big events being cancelled due to Covid-19, ARTPRIZE RETURNS! Artprize is an independently organized, nonprofit, international art competition started by Rick DeVos in 2009. Every fall, for 19 days, amazing art is shown and voted for by those who'd like to participate.
Since 2009, millions of people have participated in ArtPrize showing their work and sparking up conversations of what art is and why it's important.
Rick DeVos, an entrepreneur and investor who is also the founder of ArtPrize created it "to see if artists and the public could engage each other in a new way." Which they could, this event reached millions of people and is now one of the biggest art events created. People engage by taking pictures, asking questions, touching some of the art, making their own and participating, posting and sharing ArtPrize all over social media, and many other ways. Artists use all types of different media to create their art, making each piece even more unique.
People from all over the world participate and come to the lively city of Grand Rapids in order to see this beautiful competition.
"….the city has become a canvas," said the Today show. Hundreds of venues (all free and public) take in the art and allow artists to set up their work how they please. Art is exhibited in parks, museums, galleries, hotels, bridges, vacant storefronts, sometimes even in the water and much more.
On 2wired2tired, they described ArtPrize as "….for art and craft lovers it is the equivalent of Disney World."
You must be 18+ to participate but the end prize is worth it. ArtPrize awards $450,000 directly to artists, through grants to support their ambitious work and through prizes which the public decides through the ArtPrize website, http://artprize.org. $200,000 from the public, another $200,000 from a jury of art experts. The grand prize is $50,000!
People from different countries come to experience the joy and friendliness of downtown GR. Some participate and some just like to walk, see and maybe even vote. ArtPrize is an event that brings people together in a beautiful way.
Personally, I love ArtPrize and go every year. I was devastated when it was cancelled last year but I wasn't surprised. I love seeing all the different ways to make art and love to learn the meaning behind the most beautiful and creative ones.
Leave a Comment
About the Contributor
Cathy Valle, Contributing Writer
I'm a 17-year-old at WHS currently at the beginning of my senior year. Some of you might know/refer to me as the 'Candy Girl.' I enjoy writing, painting,...