WHS Celebrates Latinx Heritage Month
As most of us know because of the daily announcements, September 15th to October 15th is Latin Heritage month! Four students that are helping the student body understand Latin Heritage month are Jaleen Flores, Janet Delgado, Miriam Vavgas- Hernandez, and Ana Mid'oo. Each student is playing their own part during this month!
Jaleen Flores' group is decorating the white boards with flowers and each flower represents a Latin American flag, having around twenty flowers , Janet Delgado's group has students color sugar skulls and when they turn it in they get a goodie bag of candy, Miriam Vavgas- Hernandez's group is creating mini pinatas, and Ana Middos' group is covering the white boards around the school with facts about Latin heritage.
These four students have strong opinions about Latin Heritage month and why it's important for everyone to understand. Jaleen Flores believes that it is important to share what they know about the important month for all to know and understand ¨Latin doesn't get shown around as much so Mrs.Tran and all of us wanted to take advantage of the month,¨ she said.
They all also explained how African Americans get a month to show their heritage and that hispanic/latin people only get a day off of school in March. We have a whole month for Latin heritage, so why not celebrate it?
In addition, they said that our school is very diverse and that the majority of the people that attend Wyoming are hispanic. They wanted to show the diversity of the school and the different cultures that we all have together!
Almost all students said that the month is important to them because it represents their culture more than typical. Understanding the month and the culture is an important part of life and understanding diversity around the school, and maybe even the world. "We just really want people to enjoy the month, there isn't much to get out of it,¨ Jaleen explained. It's exciting for us because we're the first ones starting it in our school."
This month you really just get to see the colorful and amazing decorations that are being put up around the school. You will be able to see facts on some of the whiteboards about Latin heritage. You will get to see another culture that really isn't expressed very much like others are, as this month is just to shine on Latin heritage. You will also be able to hear some facts about latin heritage over the intercom in the morning, while they are doing morning announcements.
Mrs. Tran also has a pinata in her room. The pinata is connected to the trivia question they ask in the morning every day. At the end of the day they will go through all the filled out trivia papers, see how many people get them right. Then put all the ones that were right in an envelope, same thing with the wrong ones too so that they can count them in total. At the end of the month, they will pick five or seven students to break open the pinata. So make sure you are doing those trivia questions so you have a chance to hit open the pinata! It could be your lucky day!
Leave a Comment
About the Contributor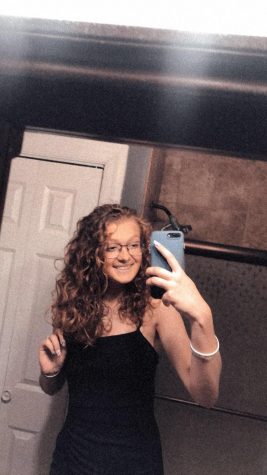 tayler lutz, Contributing Writer
I'm a sophomore at Wyoming High School, this definitely is way different than junior high. The people are way more different and you get more open to making...