Ravens Stunned The Chiefs in Week 2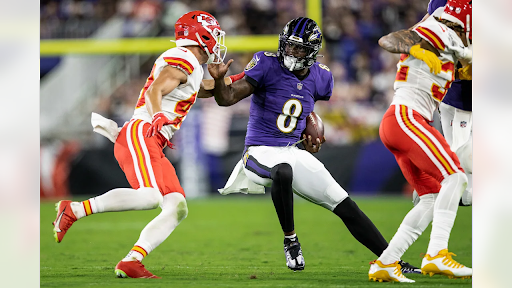 The Ravens and Chiefs battled in an epic showdown that stunned the whole NFL community. This game took place at 8:20 pm on Sunday night at M&T Bank Stadium in Baltimore.
The Chiefs have one of the most dominant teams in the NFL, this team is made of freaks of nature and they're definitely a Superbowl caliber team. They have top players at most positions but they still seem to struggle against some teams with an above average defense.
Tyreek Hill was one of those players that was shut down this week by The Ravens Defense. He finished with only 4.4 fantasy points which is honestly shocking for a player that's as good as Tyreek Hill, it's even more shocking because Hill finished with 31.6 fantasy points week 1 vs. Cleveland. The Cheetah had one rush for 15 yards and then 3 receptions for 14 yards. We need to accept that this was a bad game for Hill and move on from it. He's still gonna be a WR1.
Patrick Mahomes is the best quarterback in the league and he showed it this week in the team's loss. He played great and wanted the win but a fumble by Clyde Edwards-Helaire secured The Chief's loss with only 1:30 left in the game. Mahomes went 24/31 and threw for 343 yards and 3 touchdowns. Even though the Chiefs ended up losing, we saw key performances from "average" receivers like Byron Pringle and Demarcus Robinson.
The Chief's defense needs to work on stopping the run. 3 of the Ravens touchdowns were rushing so they needed to really work on neutralizing the run. This defense did look very pleasing during this performance because they were so amazing at making sure it was hard for Lamar Jackson.
Let's talk about the Ravens now, I'm sure only a small percentage of people thought that the Ravens could actually come up with the win. I honestly thought that the Chiefs were going to slaughter the Ravens.
This Ravens team has had some terrible injuries that happened right before the season started. To start off, they had J.K. Dobbins tore his ACL which automatically means that he's out for the year but they had Gus Edwards right behind J.K. Gus Edwards would be fine because he knows this offense and he's been the Raven's starter before, and hold your horses because merely 2 weeks after J.K Dobbins tore his ACL, Gus Edwards is out for the year with the same injury.
The Raven's defense seemed to really struggle against the Chiefs. They constantly had two defenders on Tyreek Hill and they did a good job shutting him down but they couldn't do anything about Travis Kelce, he was a problem for that defense. They allowed 29 points but recovered a fumble and had an interception. The Ravens really need to work on stopping pass heavy offenses.
Lamar Jackson looked like an average quarterback. He threw 2 interceptions, he went 18/26 and threw for 239 yards and two touchdowns. Jackson also rushed for over 100 yards, he had more rushing yards than his starting RB. That's okay because the Chief's defense couldn't do anything to stop it.
I predict that The Raven's will go 9-6 and The Chiefs will go 10-5. I hope both of these teams have amazing seasons.
Leave a Comment
About the Contributor
Levi Henry, Sports Analyst
Hey, I'm Levi Henry and I'm a contributing writer for The Wyoming Wolf Pack Press. My favorite thing to write about is sports. I am a huge college...