Student Athlete Profile: Tajuan Parks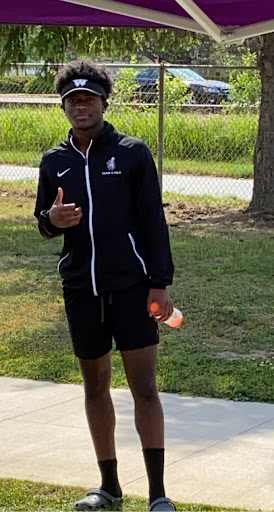 Hi, my athlete of the day is Tajuan Parks and he runs track. Tajuan has been running track for a very long time, 5 years straight in fact. I like Tajuan because he is straight forward. When I asked him "Why'd he like to run?" he told me it was because he "likes to win".
One of Tajuan's best seasons of his life was last year. "Each year I want to have a better season than the last," he said.
Someone that he looks up to in this sport is Ramere Draper, which is me, and I don't know if he said this as a joke but yeah. Tajuan's average times last year rounded up 12.1 but one of his fastest times ever was 11.9. Tajuan is going to do well this season, I say this because he told me that he's been training his body and working out to make sure he gets faster.
And Tajuan is a money man. When Tajuan is not working he is out making money. "I like making money," he said.
Tajuan also has a nice family with four siblings, including a twin brother. A coach that inspires Tajuan is Mr.VanEnk. He inspires Tajuan because he ran a 10.4 in the 100m dash.
Leave a Comment