Do Not Forget About Graham Crackers!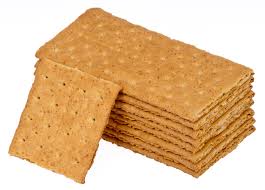 Picture this: It's a warm summer's night. You can hear the crackling of the fire in the back, you can see the glow of the fire on your friend's faces making them orange and yellow. Everything feels right. Your notice as your stomach begins to grumble and you reach down and grab for the chocolate and the marshmallows…. And WAIT WHAT? YOU FORGOT THE GRAHAM CRACKERS??
So one day in journalism class I was stuck and I needed something to write about. My mom had just bought some graham crackers to make cheesecake for our neighbors, and she gave me the rest as a snack. So I'm eating them and I ask Cornell, "I can seriously write about anything? Like even graham crackers?" To which he gave me great ideas to help me write about them and I decided to roll with it.
Graham Crackers were invented in the early 19th century. They were invented by a guy named Reverend Sylvester. However, upon Googling the reason why graham crackers were invented, as I hoped to include it in my article, I discovered that there is a meme behind them. Twitter user malfqys tweeted, "I really regret searching why graham crackers are invented." However, the reason why they were invented is not school appropriate and I suggest searching the answer at your own risk.
When you think of graham crackers, what do you think of? There is only one right answer here: S'mores. This answer was the same for Wyoming High School Students, Michelle Trieu and Sidney Gelock. I asked Trieu and Gelock if they think graham crackers are underrated. Gelock responded by saying, "Yes, I feel as if people only think of them when wanting to make s'mores. Trieu's response was very similar, "Yes, I feel they're only mentioned when it's related to bonfires and s'mores." But what you don't realize is that graham crackers are a great snack on their own.
In my A.P Psychology class, I learned that the taste of some foods can invoke memories in people, and the taste of graham crackers did the same to the friends I interviewed. First I asked, "Do you enjoy the taste of graham crackers? Gelock said, "Yes, but I kinda forget about them but once I remember they exist I'll snack on them everyday." While Trieu responded, "Yes, but they're not my go-to snack." When it comes to memories, both Trieu and Gelock's memories included friends, fires, and s'mores.
Both interviewees agreed that the original flavor of graham crackers are the best. However, I would argue that the chocolate flavor is better. And that Reese's peanut butter cups are better than the piece of chocolate on the s'more.
I also asked if there were any bad memories that went along with graham crackers. While Trieu said she didn't have any bad memories associated with them, Gelock said, "One time I lost a tooth when eating a s'more and I lost the tooth." This same situation happened to me when eating a donut at a Boy Scout Pinewood Derby race and I definitely can relate.
I think we all can agree that graham crackers are a year round staple. Whether it comes to s'mores, or just an afternoon snack, graham crackers have an iconic, memorable taste and are a great snack that everyone loves!
About the Writer
Aaron Hurst, Contributing Writer
Hi, I'm Aaron Hurst and I like to write. But if I don't like the content of what I'm required to write, then I find it hard to enjoy writing. There's...