Three Offseason Moves I Think the Detroit Lions Should Make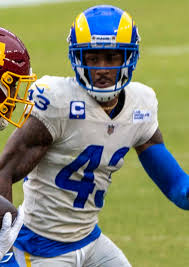 The Detroit Lions need to make some offseason moves if they are to make their team any better in the 2021-2022 season. There are three offseason moves I can see the Lions making in 2021.
One of the first offseason moves I would suggest is to pick up at least one or two wide receivers in free agency. One of the wide receivers I would suggest the Lions pick up is Corey Davis because there won't be too much competition wanting to get him because there are better and more consistent wide receivers on the Market like Allen Robinson, but he has shown some flashes of greatness. Corey has probably not quite lived up to his draft status just yet because he's battled nagging injuries causing him to lose some of his consistent playtime with the Titans.
I would also add some type of linebacker to the defense. Through the draft, a trade, or even free agency could be good options to find a linebacker to fill the shoes of Jahlani Tavai who hasn't lived up to his second-round pick status. I would suggest the Lions to pick up someone like K.J. Wright to fill the hole of Jahlani Tavai in the Lions defense. K.J. Wright has been one of the few bright spots in the Seattle Seahawks defense with a grade of 75.3, finishing with the eighth-best overall grade among linebackers. This could be possible because the Seahawks took Jordyn Brooks at 27th overall, someone who would fit in the spot Wright is in right now.
Lastly, they should pick up a superstar for our defense because it was lacking very badly in the form of someone that can just change the path of the game for a team on defense. John Johnson would be a great cornerback for the Detroit Lions. John Johnson has only gotten better with each passing year culminating in arguably the best season of his career in 2020. So it should be a good pickup for the Lions if they do decide to bring the Brad Holmes Rams' connection to the Detroit Lions in 2021.
These offseason moves are going to be some of the best moves for the Detroit Lions for their future in the next few NFL seasons.