Super Bowl Predictions For 2021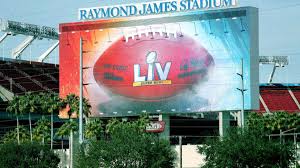 The Super Bowl is an iconic event that happens every year in the NFL. It's a clash between the two best teams in the NFL, one team from the NFC and one team from the AFC.
One of the greatest parts of the Super Bowl is the analysts that predict the scores and outcomes of the Super Bowl. There are some times where you totally agree with the person's predictions of the Super Bowl and other times you totally disagree with the person's predictions of the Super Bowl.
I actually have two predictions for this year's Super Bowl between the Bucs and the Chiefs. My first prediction is that the Chiefs will blow out the Bucs and I have three reasons as to why that prediction will come true.
My first reason as to why I think the Chiefs will blow out the Bucs is their fiery offense with lots of crazy weapons that can easily get open and fight off any of the Bucs corners in open space. I feel this is a good reason because they have the likes of Travis Kelce, Tyreek Hill, Mecole Hardman, Sammy Watkins, and CEH. I think that they can all easily get open for Patrick Mahomes and if that is not the case that leads me to my second reason.
My second reason I think that the Chiefs will blow out the Bucs is that Patrick Mahomes is an elite level quarterback when he is playing on a Chiefs offense led by Andy Reid's mastermind of an offense. I think this is a good reason because we have all seen Patrick Mahomes and Andy Reid's chemistry when it comes to the trick plays and crazy offensive scheming they had as a duo in the last Super Bowl, which leads to my third reason.
My third, and final reason is that I think Andy Reid's trick plays will be too much for the Bucs rookie defense as we saw in the Bucs matchup versus the Saints when four defenders went to cover Alvin Kamara leaving the Saints wide receiver Smith wide open for a 56 yard touchdown pass thrown by Jameis Winston himself. So I think that is evidence enough as to why Andy Reid's trick plays will really throw this game out of proportion for the rookie Bucs defense that has struggled in the past with creative plays and coach's scheming.
Now for my second prediction, that leads to the Bucs winning by a touchdown. I think the Bucs will win by a touchdown because of three reasons, just like for my prediction of the Chiefs blowing out the Bucs.
My first reason as to why I think this is possible is because of the Bucs offense. I think the Bucs offense can be fairly good when Brady's accuracy is good, he's hitting his long passes to Scotty Miller, he's throwing his slot passes accurately to Chris Godwin and when he hits Gronk and Evans in stride their offense could be on fire. Also I think if Rojo and Fournette combine for 200 yards in that game they will definitely win unless the Bucs defense just throws the game at that point. Which leads me to my second reason.
My second reason is I think the Bucs defense will be just good enough to hold off Mahomes and the Chiefs for just enough drives to get a final play that will put the game away for the Bucs. With the likes of Devin White and Ndamukong Suh I think they will have good success at stopping the run game, but stopping the passing game may be another story with the likes of Patrick Mahomes, Travis Kelce, and Tyreek Hill on the opposing team.
Therefore, my third and final reason should really show why my prediction will be correct. I think that this game really just comes down to how good Tom Brady plays and how good his clutchness is in his 11th Super Bowl appearance. I know this isn't the biggest reason as to why they would win by a touchdown, but I feel this is almost the only way I see them winning in any way, shape, or form. If Brady doesn't clutch up the Bucs have a zero percent of winning this Super Bowl.
My final score predictions would be Chiefs 38-14 or Bucs 31-24 in two very high scoring Super Bowl predictions.
Well then there are my predictions for this year's Super Bowl, you may disagree, but I agree with my predictions and I feel they will be correct in most of the ways I said they were correct. The Brady clutchness may not be the highest reason up there, but I guess we won't know until the game is over. I'll see you at the Super Bowl!
About the Writer
Logan Bos, Contributing Writer
Hey guys, I'm Logan Bos and I'm a contributing writer for the Wolf Pack Press. You can look forward to lots of articles on the NFL and the Detroit...