Football is Not Just for Boys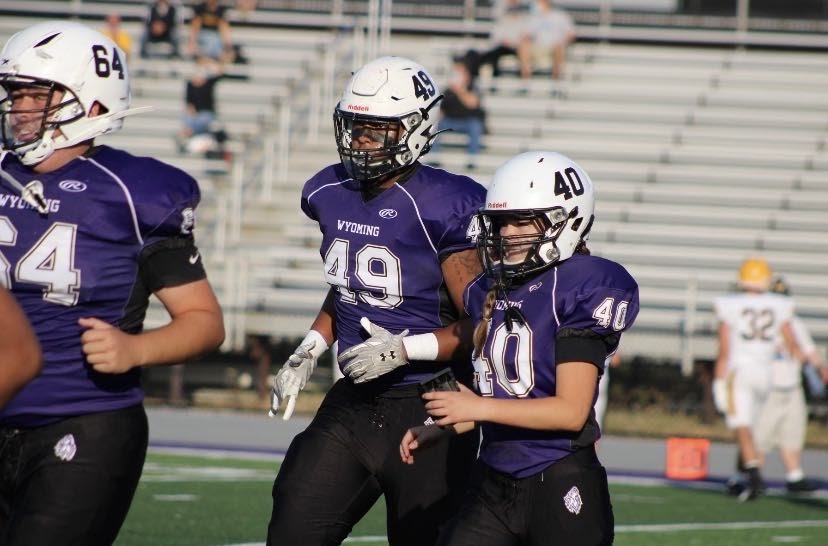 A female playing football? You better believe it! Having the confidence to walk onto a field takes a lot. Having support from the coaches especially is a must. Being welcomed onto the football team is a big deal. Wyoming can officially and proudly say that during the fall season they had a female kicker. Our coaches were very supportive and thought that it took a lot of courage to walk onto a team full of boys. Luckily, Bailey Greyzek has not been treated differently for being a girl.
Coach Sigler was impressed with Bailey. "She is a very courageous person to jump into something foreign like she did," he said. "She is a great teammate and the guys respect what she does. She had a choice to make it a big deal or not a big deal since she was their first female football player. She decided not to make it a big deal and by doing that she really earned everyone respect and they are all very proud of her."
Bailey Greyzek was told by Taejah Cross this past summer that she should kick for our football team. She took this comment into consideration for a few weeks and she ended up going to the boys varsity soccer practice a few weeks later, that's when she saw the football team. By this time Bailey had seen the coaches during practice and decided why not? She walked over and asked them if she could kick for the football team. She showed the coaches a video of her kicking and instantly the coaches supported her and told her to come to practice the next day. She continued to come to practice day after day and soon she was padded up and playing her first game.
"I don't know what I'm doing half of the time so they have given me some time to get used to everything," Bailey stated.
Playing around guys has never really been a problem for her; she plays with the boys varsity team all of the time. She is also the team photographer for both the JV and Varsity soccer team so she has become accustomed to being around all guys. She is not the type of person to give up.
"She's brave for walking onto the team," David Ortiz said."Everyone doubted she could do it but I knew she could. She doesn't seem like a girl who would give up."
She continued to prove to herself that she could do it every time she stepped onto the field. She did practice different drills then the team mainly because her drills were meant for kickers but she went to practices every day alongside the team. Bailey does indeed wear shoulder pads. It took a bit for her to get used to them but now she's adjusted to having them on.
"I felt like a bobble head but I got the hang of it and it's really easy now," Greyzek said.
There does come a question to mind when thinking about a girl on the football team. Where does she change? Welp she's been given a space in the storage room where she can change into her equipment without anyone seeing her. She is not allowed into the guys locker room until everyone has changed and the team is talking.
This girl is truly brave and not alot of girls would walk onto a football team like she did. The season is almost over but I wanted to make sure you guys read about this amazing young woman who happened to become the kicker for our team.During the season there was an addition of kickers, who are all soccer players all, thanks to Bailey Greyzek.