New Building New Features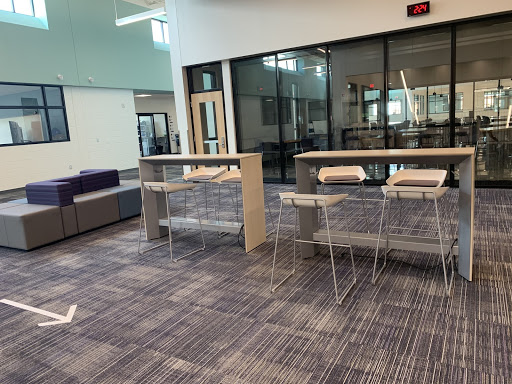 Finally! A new building for Wyoming High School has been built! There are so many new areas for students to work independently or in groups. The ceilings are up high and the lights are much nicer, this update changed a lot for Wyoming students.
Starting with classrooms, they´re all mostly painted white and dark blue and have comfortable chairs for students. Most of the desks are together so students do a lot of group work which can be good for getting to know each other and learning how to communicate. Aubrey Faith likes the classrooms the most she said, ¨I feel like students are more open now and classrooms are set up nice.¨
Another new thing are the break rooms! They are there for students that are either in need to work independently or as a group. I think it gives off a quiet but comfortable office feeling. ¨I like that they are see through but quiet¨, says Diego Quintino. Another student said ¨I feel more focused when working by myself that's why I like breakrooms.¨
There is also a work area by the stairs and comfortable seats upstairs and downstairs, really they are spread out through the building. The work area by the stairs is a bit small and is mostly used for individual work or reading. On the stairs is where people can meet to talk, and do individual work. Personally this is my favorite spot to work, I just feel comfortable and focused when I'm by myself. I don't get distracted as easy as I would when I'm in class.
Also, we have seats below the stairs where students meet to talk in passing time. There are multiple selections like purple high chairs, couch/lounge like chairs, tables and booth seats against the wall and I think it is so nice to have options to sit at. ¨Congregation areas are nice and I like that the windows are bigger, it feels more open and welcoming,¨ said Marissa Menard.
Lastly, we have a pretty courtyard right outside where the old and new building meets. Even though students aren't allowed out there right now I think it would be a great spot to eat lunch and associate. The teachers are allowed out there and enjoy it. ¨I get a break from my mask and it is nice to eat out there,¨ Mr.Mulvihill said with excitement.
In conclusion our building is very different and nice looking. I like the new features and think it is a huge step for new things to happen. Although it is not all the way finished it is just a start to something new and I can't wait to see the final project my senior year!