Anthony Powell Gives His All on the Soccer Field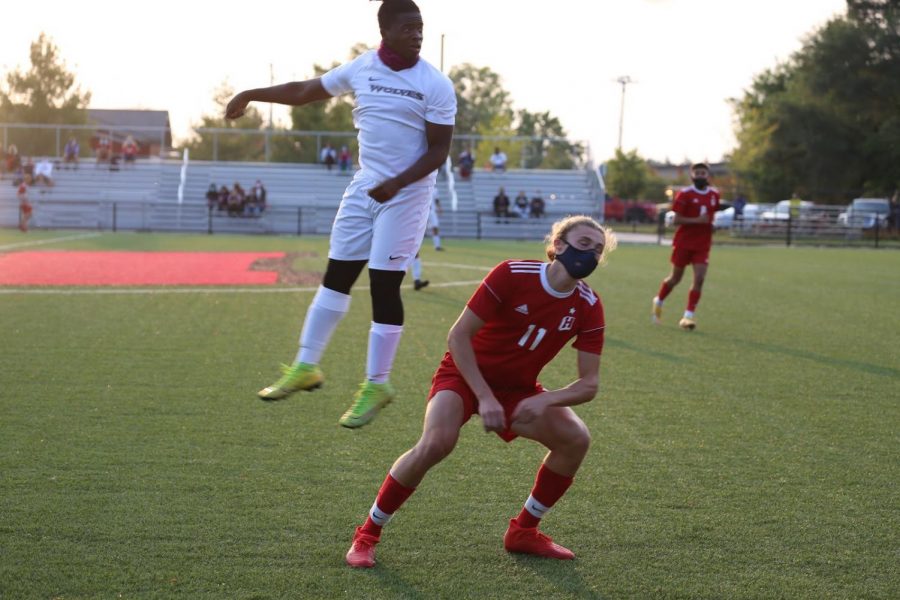 Once Anthony Powell steps on the field it's only him and his opponent. He's a lion in a cage, just waiting to be released. He makes the opposite team wish they stayed home because they know they're in for a beating.
Anthony Powell is a junior at Wyoming High School who has been playing on the school varsity soccer team since last year. Anthony has been a key player for the Wolves these past few games, which explains why they are 7-1. I just had to know how and why Anthony is bringing success to soccer by having a subtle and discreet interview with the starting right back.
We met in the cafeteria during Anthony's lunch on Friday, September 18 at around 11:55 am. By the looks of his face, Anthony seemed thrilled to be involved in this interview which made me, a reporter, glad to have chosen this particular player. I offered Anthony a seat and immediately gestured him with an introduction about who I was and what I was doing. Once I noticed that he was comfortable and gratified, I then got straight into the 14 questions that were typed on my laptop.
Firstly, I asked Anthony why he chose soccer to become his main sport. "I love how it involves aggression and intensity, something that I'm good with," Anthony responded. This is something that Anthony is known for on the field, and is a big reason why he is so successful.
"What would you want to improve on in soccer?" I asked.
"One thing I want to improve on is my dribbling," says Anthony. "That has always been my weak point and I know it."
I then asked Anthony a question that I've been daring to ask him. "What do you hope to accomplish this season?" I deliberately asked.
"I hope to go undefeated," confidently said Anthony. "I feel like our team is good enough to take everybody in our conference this year." And by the looks of it, it seems like the Varsity are doing exactly what Anthony wants and believes.
About the Writer
Cristian Diaz,
Hey there, my name is Cristian Diaz. I am currently 15 years old and am 5'3. It's a struggle being "short" but I have gotten used to it. I guess...