Why You Should Watch You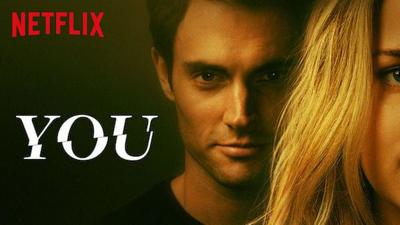 Maddie Masunas, Layout Editor
February 5, 2020
What would you do for someone you love? According to Joe Goldberg (Penn Badgley), it means going as far as killing anyone who gets in your way.
The Netflix series You is a psychological thriller that was first released in 2018 and has been very successful since. Just the first season alone streamed 43 million views on Netflix. Season two has already been released, and season three was announced to be renewed on Netflix sometime in 2021.
The series is basically about a crazy guy named Joe Goldberg who obsesses over people and goes to extreme lengths for the ones he "loves." In season one, he falls for Guinevere Beck (Elizabeth Lail) and goes on a crazy journey with her. It doesn't end well for the two of them and he ends up meeting someone new in the next season. Season two comes around and he falls for Love (Victoria Pedretti), who I personally liked better than Beck. I feel like Love and Joe just matched better as a couple. I also thought Beck was annoying at times. She also ended up being a cheater too so it made me like her even less.
I like this series because of the interesting concept it has. The main character is obviously a bad person, but seeing things through his perspective and seeing his story makes him likable. I was actually rooting for him throughout the series until the very end. I didn't like the end and it made me not like Joe because, spoiler alert, it seems like he ends up "falling" for another random girl even though he has a family with Love.
This show also had a lot of plot twists and that is something I like watching. It keeps it interesting and I didn't get bored. My favorite plot twists were the ones at the end of both seasons because it got intense fast and I didn't see any of them coming.
The final rating I would give You is a 4 out of 5 stars. I like the concept of the show and I like the actor's performances. One thing I didn't like and thought was confusing was that Joe got away with killing a lot of people and the cops still never found out it was him even though it was pretty obvious to see. There are some other things I would change myself but overall I do recommend this show to others.