The Wonderful Ms. Harris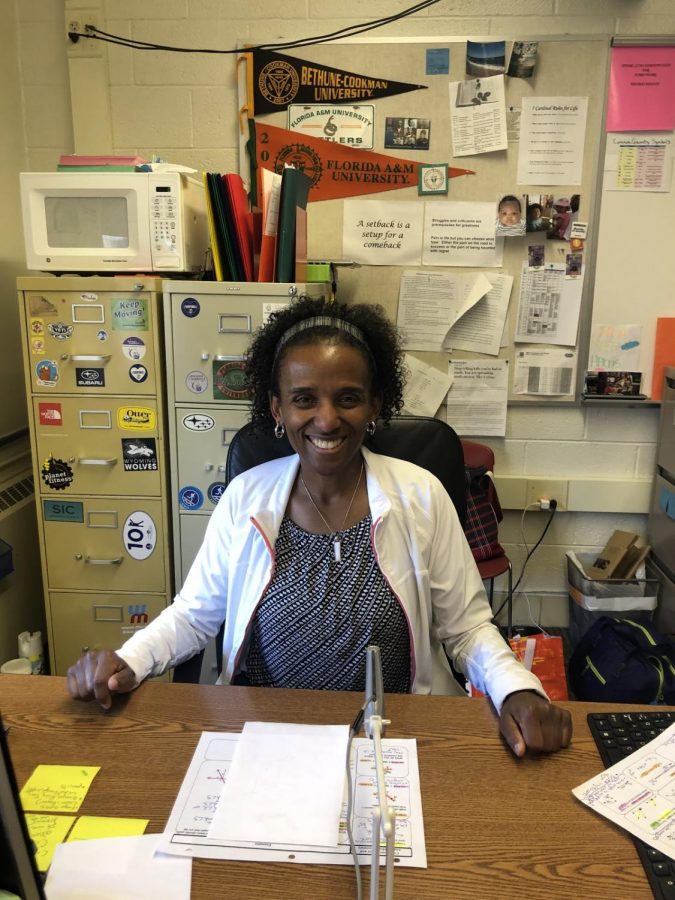 Sophomore year I had to take Geometry and my teacher was Ms. Harris. Ms. Harris is full of personality and attitude. She can give tough love but you can always tell that she cares. Even though she doesn't admit it, we're besties.
Ms. Harris has been teaching high school math for 26 years. She began teaching at Wyoming in 1995. She went to Grand Rapids Community College for two years and got her associate's degree. After that, she went to North Carolina A&T University because she wanted to be a chemical engineer, but she ended up not liking the field. Looking for a new field she went back to GRCC for a semester and decided she was going to go into accounting, so she went to Florida A&M University. She went into their accounting program and didn't like that either. It had been a while, so she had to decide what she wanted to do as a career because the money her mom had saved for her was running low. She wanted to become a teacher because well, she needed to graduate, but also she had family members that were teachers, so she grew up around that.
"So I said hey, why don't I be a teacher? Because I've always liked math and science, so that's what I went into. Looking back, it's been a real blessing for me, to be an educator," she says.
Her favorite thing about her job is when students finally understand a concept. "Math isn't the easiest thing to teach, but then when you guys get the concept and say 'oh my gosh I got it this is so easy' that's the greatest thing."
Her least favorite thing is all the paperwork. In five years she hopes to be retired but still working. In ten years she hopes to still be financially well and stable so that she can live her best life but possibly still be working.
Ms. Harris has been to Hawaii and her dream vacation is spending a month in Ireland. Her favorite movie is the first Star Wars. Like me, which is why we're besties, her favorite color is red. She says her favorite food is pizza. Her biggest strength is her ability to be there for others, but her biggest weakness she says is that she can have difficulty expressing her feelings. What other people do that makes her super mad is when people don't do what they say they're going to do.
I asked Ms. Harris if she loves me now that I'm graduating, and she said 'okay.' I would say Ms. Trina Harris is an amazing, dedicated teacher. Don't call her Trina.