"Spider-Man: Far From Home" Movie Review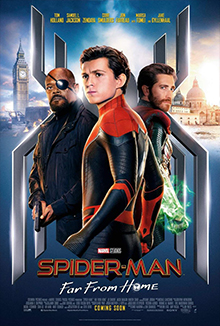 The world continues to be entertained by Spider-Man movies with their good quality stories. After "Avengers: Endgame", Tom Holland, who plays Spider-Man, continued his story with the new movie that came out in June "Spider-Man: Far From Home". It required people to stay in the movie theater for two hours and nine minutes.
The storyline was based on Spider-Man going on an unexpected Obstacle in Europe while trying to express his feelings towards MJ who is played by Zendaya. Like any other superhero, he wanted a regular life but with a mission in every part of Europe he went to, it was hard for him to live one. The movie continued with a tragic event that happened while on a trip and then caused his plans to fail like he planned it, due to the new villain "Mysterio" who messed with his imagination. In the movie he realizes who he really is and who other people's true colors are.
Along with the recent movie Spider-Man: Far From home, people who already saw it would see it again. I asked Jessie Longoria a former student in tenth grade at Wyoming High School if they would recommend a person to go watch it, if undecided about what movie to watch. "Yes, it had great action and a plot twist," said Jessie Longoria, "I went out with friends to see it and it was as I expected it to be." I asked if during that time he was looking forward to seeing the movie. "I wanted to see how he handled Iron Man's death and how he was going to defeat the villain." But when I asked him about some dislikes he wasn't really sure besides the fact that he "wished the villain had natural superpowers." But he did like how the movie ended. "I like how his secret came out and how he won the battle against the villain."
The ending is great, Peter Parker, Spider-Man's real name, ended up with the idea of getting what he wanted, but he also revealed who he was to the world aside from his superhero life. He showed the people how he can be the next Iron Man. The movie had different scenarios along with different emotions. There were parts in the movie that were funny and surprising. Then again there were also parts that made you feel awed. But you can feel when it's getting serious and when the good action scenes are about to start. I would give this movie 9 out of 10.