The Lovely Bones Review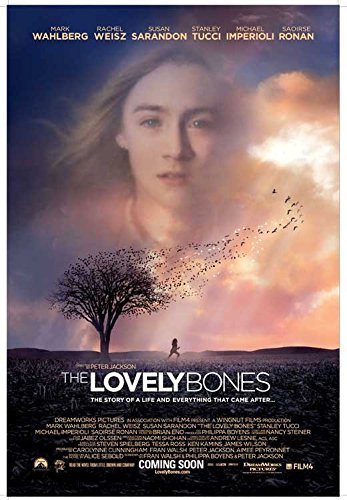 Hang on for a minute...we're trying to find some more stories you might like.
When Susie Salmon is murdered, she is left with the anger from being taken away from the earth too soon. "The Lovely Bones" follows her journey from parting Earth, to being in "limbo" and eventually making it to heaven.
Susie Salmon (played by Saoirse Ronan) was lured one day after school by her killer George Harvey (played by Stanley Tucci). Harvey caught a glimpse of her and his sick twisted mind decided he needed to kill her. So he built a room under the ground in a cornfield and called it a "clubhouse" just for the kids and Susie could be the first one to see it. That underground room is where she takes her last breath.
When Susie reaches limbo she watches her family from there. Her mother doesn't grieve and is so shattered by the loss of her daughter that she has to leave. Susie's father becomes extremely obsessed with finding the killer and being able to prove who he thinks it is. The only thing that would bring them peace is the capture of her killer.
Saoirse Ronan was thirteen years old during the filming of the movie and her acting is astounding. You can feel all her emotions so deeply that some may cry like babies as a reaction to the movie. Stanley Tucci plays a horrible character but he plays it so well that you end up being terrified of him. You can feel Susie's mother's grief (Rachel Weisz) so deeply that it breaks your heart and Susie's father's obsession (Mark Wahlberg) through the screen.
The last thing that sticks with you other than the traumatic, eye-opening story is the soundtrack they chose to go with it. The music fits perfectly and at times, makes the scene more emotional.
Even though it is ten years old, The Lovely Bones is something amazing.
4.75 out of 5 stars Amazing
5 stars – One of the best
4 stars – Amazing
3 stars – Average
2 stars – It's fine
1 star – Terrible, please don't watch