Asian Fusion and a Thing For Trains: Railtown Brewing Company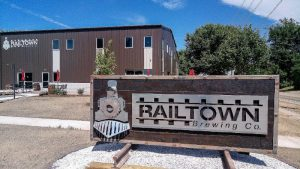 Hang on for a minute...we're trying to find some more stories you might like.
Food & Brews is on the move again, this time to the Dutton, Michigan. A small town that Google Maps says is actually Caledonia, Dutton doesn't seem to have much except for Steelcase and some churches. But re-located in an old industrial warehouse is Railtown Brewing Company, a hot spot to eat and drink at after work. Let's get into the details, shall we?
Now, I didn't see any train tracks near the brew pub, so I have to assume that one of the owners has an obsession with trains due to the name of the place. When you walk in, the merchandise is right next to the hostess' podium, so you can look at their shirts and hats while you wait for a seat. The bar protrudes quite far out of the wall in the middle of the bottom floor, but there are plenty of seats at the tables around it and on the upper floor. Also, if you want to have some fun with your friends, you can find a pair of dart boards in the back corner of the bottom floor, and they're the nice boards with metal darts so they don't fall off.
When you eventually get to a table, the menu you will be given is unlike most of the other breweries from the Grand Rapids area. The format is normal with the appetizers, burgers/sandwiches, and tacos, but a closer look shows a Korean influence on a lot of the dishes. You can get the Gangnam Style burger that uses bulgogi beef and kimchi, you can get tacos with spicy pork belly, and you can even get tater tot nachos (Totchos) topped with gochujang marinated chicken, cheese, and green onions. Personally, I love Asian food, so this was really interesting to me and made my choice for dinner pretty hard.
In the end, my friends and I decided to start with the chili cheese totchos so we could ease into the main dishes. Totchos are an instant hit on my part because you don't see them very often, so they tasted good before I even tried them. The chili is made in house and reminds me of Texas-style chili, so it mixed well with the cheese blend.
For our entrees, each of us tried a different sandwich so the food could be shared easily. I went with the Bulgogi Cheesesteak, a take on the classic Philly Cheesesteak infused with a Korean marinade, kimchi, and pickled jalapeños. The cheese sauce was melty and delicious with the add-ons, and I would definitely recommend the sandwich to anyone. My friends weren't as adventurous, sticking with the Railtown Burger and Hot Chicken Sandwich. The burger was normal with its cheese and lettuce, but it included a nice garlic aioli that I appreciated, just so it wasn't bland. As for the Hot Chicken, it wasn't overpowering and came with tater tots, so I didn't have any complaints. Next time, I'll have to try their tacos to really see how well they add in Asian flavors to the cuisine.
Railtown Brewing Company is a restaurant to visit when you have the chance. The service was nice, the design was pleasant, and the food was worth it. The brewpub scene within the state of Michigan has been exponentially rising for the past few decades, and I think that we, as people who live here, should help these places out. After all, who doesn't enjoy great food and a cold drink?
About the Writer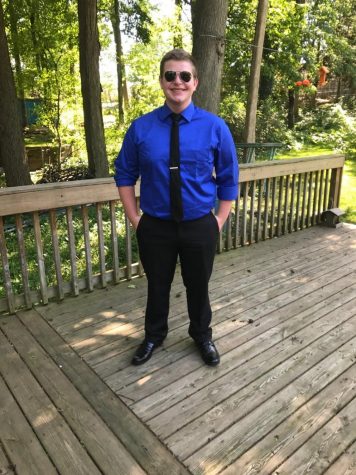 Nolan Weatherby, Sports Editor
Hey everyone, I'm Nolan! Many of you may know me as Nolander, Ranger Nolan, Weatherby, or a plethora of other nicknames given to me by the students and...