What I am Watching on Netflix Now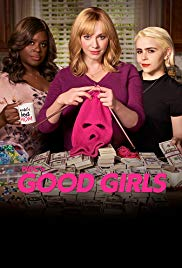 Maddie Masunas, Contributing Writer
May 7, 2019
Sometimes it's hard to find good shows on Netflix. The plot won't be good, the episodes are too short, or it is just plain boring. I found a show that actually interested me though, and it was season 1 of Good Girls on Netflix. Overall the show is pretty good and the plot kept me interested the whole time.
Season 1 came out in 2018 and the second season came out this year, so if you're looking for a new show that hasn't ended yet, this is it.
The storyline of Good Girls is three friends need money for their own reasons. Ruby needs it to pay for her daughter's medical treatments, Beth needs the money to pay off her mortgage, and Annie needs it to get a lawyer for her custody case. They all decide to rob a grocery store to get quick cash. It seemed like a clever idea at the time but they soon realize it wasn't. They think they got away with it until more problems arise.
The characters are all funny and work well together which makes the show that much more enjoyable.
All of the episodes are around 40 minutes each. I love when shows have long episodes. This also makes binge-watching a lot better because you can stay in your room with lots of snacks and watch the whole season in two days, or one day if you're dedicated. I finished in about two days because I was binge watching it.
I would recommend this show because the plot is interesting, it's funny, the episodes are good lengths, and it is on Netflix so the first season is ready to binge watch. Good Girls is a funny show that has many twists and turns and the plot is very unique.