Not Just The Man, It's G-Man
Hang on for a minute...we're trying to find some more stories you might like.
Every day students will hear a new punny joke from him. Whether it makes them smile or laugh, they know it's not the joke that is lifting up your mood, it's the man who's telling them.
Mr. Gurk has been a part of our district for 16 years now, bringing joy and life to the music program here at Wyoming High School. In the classroom, he always has new techniques and ways to keep students motivated and engaged. "There has to be passionate in everything we do," says Gurk. He started off playing the trumpet and stuck with it ever since. He was interested in the saxophone "because it was shiny" but preferred the trumpet.
Mr. Gurk enjoys seeing his students progress as musicians. "For me, it's the best at where you're at," he says. "When someone comes into a performance or even in a classroom setting and slams down their absolute best that they can possibly do, that's just fantastic".
This positive attitude shines upon students and helps them stay encouraged. It even makes them feel comfortable enough to talk to him on a personal level. "[He's] understanding and a very good listener," says Julyssa Barajas. She, like many other students, have built strong connections with Mr.Gurkr. "Even when we felt awkward, he would always know when something was wrong," says Camila Maldonado-Pena.
It could be hard for some students to seek out an adult figure that can be there for you. Many students say that one of his best qualities is giving advice. When a teacher tells their students to "do what's best for you,"  "believe in yourself," or 'being happy around people is the best thing you can do so keep doing it," how much more support could you ask for? These real tips that were given to students by Mr.Gurk make them feel accepted, safe and inspired.
With as much experience in music as Mr.Gurk has, you would think it would be hard to teach high schoolers. But that doesn't stop him from wanting to see kids have breakthroughs.  "I like to say I'm changing the world one note at a time," he says. He loves his job so much he says, "I don't think I could pick one [best thing about my job]". The job of a band director is not the same as any other teacher. For most teachers, they can have students for maybe two or three years in a row. For Mr. Gurk, he can have them up to five/six years in a row. "It's really cool to see you all from 7th grade all the way to 12th grade," says Mr. Gurk. He adds that just hanging out with students is fun.
Anyone who knows Mr. Gurk knows that he not only cares but loves to make people laugh. His jokes are cheesy and if they make his students cringe… that's okay! He still will get a kick out of it. It's almost impossible for students to hold back a smile when they're around him.
With students, work, and upcoming performances always a priority, how does he manage all these tasks? "Intentional," he says. Especially during the busy marching band schedule and life at home. "I spend a lot of time planning. I have to get as much done as I can because it is going to get busy," he says. The humblest part of Mr. Gurk is that he doesn't do a lot for himself. He focuses on getting things done, using the time he has, and making plans. And this is for his work and home life. "I will plan a date with each of my kids," he says. "I hate to plan it but [if I don't] it doesn't happen."
This teacher is more than an instructor; He's a friend and a role model. He reaches out to teach people to "love music making and to see joy and passion." If you ever need a laugh, advice, or just a warm hello, G-man is the way to go.
About the Writer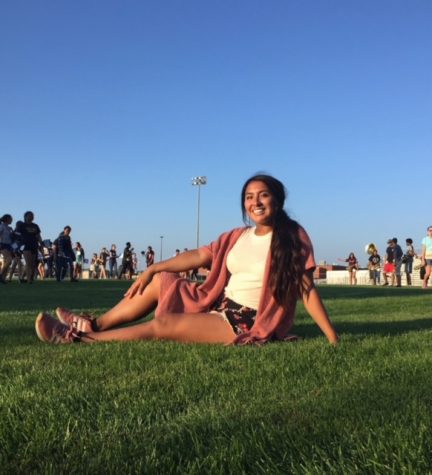 Aliyah Rivera, Cornell's Sidekick aka editor aka layout artist
Hey guys, I'm Aliyah Rivera! If you don't know me personally then you've probably only seen the side of me that can be very loud, outgoing, and extra....