Elote, Empanadas, and Everything You Want: Two Guys Brewing Company
Hang on for a minute...we're trying to find some more stories you might like.
So, our next stop on the Food & Brews tour may be a Brew Pub that most of you have either been to or heard of since it opened about a year ago. Two Guys Brewing Company is just a short drive from our high school, located on the corner of Porter and Byron Center. The owner's children graduated from Wyoming Park before the schools merged, so they feel quite attached to the area. If you're looking for good and local foods, then this is the place for you.
Now, I would try to get to the brewery as soon as they open, which is 3 PM on weekdays and noon on weekends because the parking lot is always full. When you get in, the bar is to the left, and the rest of the space is filled with community tables so everyone can feel welcome. Most of you might remember that this building was originally a 7-Eleven, and they use the old fridges as a place to store their fresh vegetables and, for your parents, kegs of their house-made draft beers. The signs on the walls have pictures of their family and fun sayings about drinking and eating with friends, making the brewery have a home-like feel to it. And, the staff is quite nice and helpful with the food suggestions, so don't be shy when it's time to order.
The menu is one of the most unique ones from the brewpubs spotlighted in Food & Brews because they have heavy Hispanic and western influences. Looking at the "Shareable" section of the menu, customers can get fried pickles and house fries, or you can get chicharrones and chorizo fundido. A fan favorite is the Elote Fritters, their take on the popular street corn laced with cheese and spices. They are very good, and you will most likely order two or three plates. Trust me on this one.
Sandwiches and baskets are the main dishes you can choose from, and these shouldn't be too outside of your comfort zone. They do a great smoked pork shoulder sandwich and a Cubano with great mustard pickles and cheese, but if that's too much you can get authentic tacos or your go-to chicken tenders. Everything is homemade, and the servers can give you suggestions on the best sandwich if you can't choose. But, there's something on the menu that you can't go wrong with, no matter your preferences. When the chefs get to the brewpub each morning, they create a new empanada for the day that could be very authentic or very crazy. I've seen on the specials board potatoes and chorizos as one empanada, and then I came back the next time and it was a Philly Cheesesteak filled one. The great part is none of the mixtures are bad, and I myself would recommend this as the first thing you try when you get out to Two Guys Brewing.
The owners love Wyoming, and they show it through multiple events. They created a special beer called the Wolfpack Wheat that gives a profit to this year's Senior All Night Party when adults order it. To also support our senior class, they hosted a few nights where 15% of everyone's bills go towards the party, and that's just so nice of them to do. Two Guys Brewing Company may be new to the brew pub scene of Michigan, but they have not done anything wrong yet. The food's great, the hospitality is better, and the location is iconic. That's why they have everything you want.
About the Writer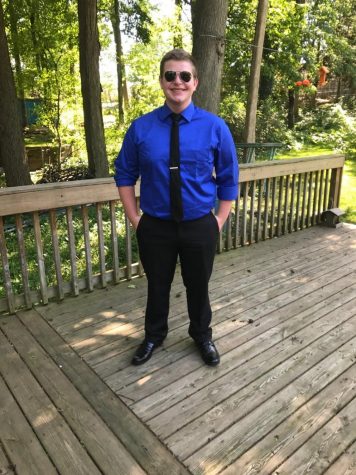 Nolan Weatherby, Sports Editor
Hey everyone, I'm Nolan! Many of you may know me as Nolander, Ranger Nolan, Weatherby, or a plethora of other nicknames given to me by the students and...